The Good...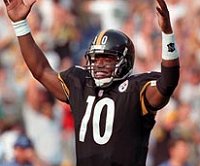 ---
Submitted by
Matt Taylor


The question is, will Kordell rewrite the QB mold or will he fall victim to QBs who have had the talent, but wasted it (e.g., Andre WareAreYou, Rodney Peetemoss, & Ryan LeafMeAlone, just to name a few). There are many people that want Kordell to succeed, to be a savior to the Pittsburgh dreams, but there are just as many who are "What have you done for me lately." I believe Kordell has the talent, the determination, and the drive to be one of the most feared QB's. How long did it take for Steve Young to make a place in history? How long did he sit on the bench and learn from a Hall of Famer? Kordell hasn't had that luxury. O'Donnell left for greener paychecks, and Kordell was thrown into the position. He had a great year [in '97]... defenses didn't know how to contain him, the offensive line played one of their best years ever, and THE BUS ran over a few defenses. Kordell will be a great QB for the Steelers, but not unless the O-line gives protection and creates holes for the running game. Also, until a wide receiver steps up and says "Give me the damn ball," who can he throw it to? Yes, Kordell is struggling, but he has played for three offensive coordinators in as many years. The solution? Create a new K-gun offense. Bettis can still get his carries, but give Kordell a quarter to play with 4-5 wides, shotgun, hurry up offense... that is his strength. The Steelers seem to be trying to play two offenses: smash mouth and pass attack. They do not have the players to play both continuously. They need to decide what their offense is... run and gun, smashmouth, or balanced. If they want to have a balanced team, they need a marquis WR, not another QB. Just my thoughts on SLASH (not Trash).

---
Submitted by
Bill McCombs


Kordell... ah, now there's a word that perks the old ears up. Every week I just keep saying, "Today... today is the day he will turn it on." It's really hard to be behind Kordell, but I'm trying to hang in there. At this point in time, they just plain suck! But it isn't totally his fault. Receivers aren't getting open, the O-line collapses or never materializes, he throws behind someone, or someone tries to catch the ball and it bounces to the defense. At this point, I just watch and try to be loyal because, after all, THEY ARE THE STEELERS, my team... our team. It's tough, but I keep watching and hoping and wincing. They will come back... I don't know when but they will. I know they will. It's gonna happen people, just be patient. I have complete faith in the coach(s) and the players. So keep cheering and yelling and screaming. But, the booing isn't gonna help. They aren't stupid... they know they're not playing well, but booing isn't gonna help. It's tougher to play when you are getting screamed at by your own fans. Lighten up people... they will fix this mess (soon, I hope).

Bill McCombs

---
Submitted by
Michael Aubrecht
Visit Mike's Steelers site,
The Unofficial Steelers Online Fanclub.

I'm the guy who can debate sports all day long to a non-black and gold fan as long as they understand that my opinions are always right (no matter what the stats say).

This being said, I also find myself having these same debates with other Steeler die-hards and the latest contract extension for Kordell Stewart (5 year, $27 million, thru 2003) is a perfect example.

When Kordell first came on the scene, he was electrifying. A true star athlete who made defensive coordinators cringe. His ability to play any position and make incredible plays out of desperate situations was second to none and Steeler fans quickly embraced him with a passion not seen since the dynasty days. When he was moved up to the starting QB position, he remained a leading quarterback with mobility, speed and power. He had some incredible comebacks and ended a great starting season by taking us all the way to another AFC championship game. Fans were quick to propose that he was perhaps another Terry Bradshaw and that this could be our ticket back to the glory days... and then it happened...

As usual in Steeler country the team had to deal with another successful Offensive Coordinator leaving and another (different style) Coordinator arriving. Chan Gaily was an expert at recognizing player's capabilities and building an Offensive scheme around them while Ray Sherman attempted to convert players into an existing Offensive scheme. The result was devastating. A team already known for losing key talent was now known for losing, period.

Now I realize that Kordell still has a lot of growing up to do. His behavior on and off the field this season left something to be desired, but his performance was also impeded by a new coach, injured offensive line, inconsistent running game and the loss of his go-to guy Yancey Thigpen.. This was intensified by living up to the previous year's performance while trying to learn the position of a NFL Quarterback. He did make mistakes, but no more than any other inexperienced player. As a result, many fans have already turned on Kordell.

I admit I miss the Slash days, but I also recognize the potential that he has and his performance over the last two seasons has shown what he can and can't do. I feel he needs to concentrate on football. No more video game boxes and telephone commercials, just playbooks and game films. We want Kordell Stewart the athlete, not the marketing machine. Pittsburgh's not about that (and hopefully never will be). You want endorsements, move to Dallas, you want smash mouth, in your face football with blood, mud, guts and glory… Welcome to the 'Burgh.

I'll also admit that I'm not used to losing either, but many die-hards can recall the early losing seasons delivered by another young and inexperienced quarterback named Terry Bradshaw. Kordell is a talent and like any talent, he needs time to grow. So be patient and give Kordell a chance. Cowher has already made some good decisions in obtaining the new Offensive Coordinator Kevin Gilbride (previously with San Diego, Jacksonville and Houston) and also obtaining a quarterback coach.

The Steelers organization made a good business decision in signing this extension. First, it helps to take some pressure off the upcoming salary caps. Second, it shows that the team is committed to repairing the Offense as opposed to rebuilding it. Finally... If he does live up to his potential, we've retained a star and if he doesn't, someone else with buy him out via free agency and hand the Rooney's a big check. It's a win-win situation and that's just what the Steelers need.

Michael Aubrecht The Unofficial Pittsburgh Steelers Online Fanclub @ http://www.nothinbutnet.org/steelerweb

---
Submitted by
Jim Grant


My opinion of Kordell varies almost weekly. However, one must take the good with the bad. Kordell will never be a Joe Montana type of quarterback. You can never expect him to read defenses and pick a secondary apart! It will never happen. But he can be a great QB. You have to let Kordell be Kordell. That means allowing him to move around and make plays. The more constraints Kordell has, the worse he is going to play. Now, in his defense, he needs some athletes that can stretch the field, yet he also has to know when to throw the ball away. Last year was a disaster and for the Steelers to improve he needs to get the ball to his athletes and starting running around and making plays.

Jim Grant

---
Submitted by
Tommy Coleman


Slash? Not anymore. Trash? He is a Man and a Pittsburgh Steeler and as so, in my opinion, he deserves respect. Did he get emotional and out of line with Bill Cowher? Yes. But I saw that game and the discriptions of him "crying" are blown way out of proportion. He freaked and welled up with tears and shed one or two, but to say he is a "Big Cry Baby" as Nat Laborde put it is flat out wrong!

Let's go back a bit, shall we... First of all, I live in AnnArbor, Michigan, and have been a Wolverine fan my whole life, so when I tell you that Kordell broke my heart long before he became a Steeler, you can believe it, brothers and sisters. Truth be told, if the Steelers hadn't drafted him, I would probably still despise the sight of his grin and dazzling athletic abilities. When I heard he was a Steeler, I called a friend and said he broke our hearts... now he can mend them.

1995: What a year. The one thing that bugged me the most was, as the season went on and it became apparent he was something special, beyond the nay sayers and doubters, the media started to press him; "Are you going to be a quarterback? Are the Steelers telling you the truth?" They even had the nerve to bring in that sanctimonious "Cry Baby" Warren Moon to play the "Race Card." Hey, Warren, the Steelers had a black quarterback 10 years before you ran to Canada, and man, we have not heard the end of it yet (the annual Warren Moon Whine and Dance Weekend). He really does Edmondton a disservice, but enough about that blow hard. On and on it went and each week it seemed to get worse, until the Steelers seemed forced to play to the media and that was not Kordell's fault in my opinion. I still think they under utilized him in SuperBowl 30.

1996: All I'll say is "Poison Fog!"
1997: AFC Championship Game as a first year starter and a great team around him. He made a couple of throws that really cost us, but Norm missed a kick he would "NORMally" make. It's a TEAM sport, folks!

1998: At the Quarterback Challenge that summer I could see he had a lot of work to do on his accuracy. Then there are all of the other factors Kordell can't control (If you want to play the blame game, there is a enough to go around, people). I'll say this; Kordell has to look in the mirror and he has to take it to the higher level. I've heard so many viscious things said about him and from people I never would expect it from. We all heard it and I for one think you people who gossip and slander others with no basis to found your crap on are insecure, hateful, misguided souls with deep rooted psyhcological problems stemming from childhood traumas! I'll pray for your enlightenment. There is really a clear parallel between Kordell and Terry Bradshaw: the media, the fans, the close relationship to the Head Coach, Lousiana, losing in the AFC Championship Game in their third year, etc. I hope when it is all said and done, Kordell (unlike Terry) doesn't turn away from the Great City of Pittsburgh with a hole in his heart where there should be "a whole lot of love." Of course, the fact is, Kordell may have been the best receiver on the team in '98, but he can't throw to himself. Well, wait a minute... hmmm... HAVE FAITH!

NOT Anonymous,
Tommy Coleman

---
Submitted by
GENIE GENE


KORDELL IS KING! KORDELL WILL BE BACK ON TOP THIS YEAR. GILBRIDE WILL UTILIZE ALL OF HIS NATURAL TALENTS, HINES WARD WILL SHINE, AMOES Z.. WILL BE A GAME BREAKER, AND THE D WILL BE MUCH BETTER. CAPT'N KIRK WILL BE READY TO ATTACK! CAN'T WAIT TILL THE SEASON BEGINS!

#1 STEELER FAN
GENIE GENE

---
Submitted by
Robert Botkin


Kordell will turn out to be one of the great quaterbacks... compare all the great quarterback ratings at this point in their careers with Stewart's and Kordell is better than just about all of them. The difference is that when they started out, if they had promise, you knew they were going to be with the team for another ten years... so they could go through the growing pains for a few years and still have a job. With free agency, you don't get to do that anymore.

---
Submitted by
Dennis "DDogg" Wright


Steelers football has given many generations of fans so much to be proud of. The Steelers organization is one of the NFL's (if not all of sports) most respected franchises. This football club is one of the classiest in the league... a well rounded, family oriented club, whose players in every way reflect their philosophy. Win, play hard, believe in yourself...but win.

The Steelers are winners. There's no doubt about that. With the exception of the dismal 1980's (my apologies to Louis Lipps, Mark Malone, David Little, and co.), the Steelers have mounted a string of winning teams in the past 30 years. What started with one miracle play launched the greatest dynasty in sports history. But none of this would have been possible had it not been for the cast and characters that made the whole thing happen, including the Rooney's.

It takes a special player to play in Pittsburgh, a city laced with heart... a blue collar town flowing with unwavering pride. That's why you can say in the same respect that it takes a special fan to watch the Steelers. Well, for some reason, that comment doesn't have as much merit anymore. I look around me and you know what I see? Fans who aren't proud... who don't have heart. I see a lot of ungrateful, bitter people who have no business acting this way. You're Steelers fans, for God's sake! If any group of people should know how to apreciate something, it's us. All this Kordell talk is making me sick.

The fans did the same thing to Bradshaw early in his career. But after one magical draft in 1974, Chuck Noll had finally put together the team he wanted, and it was time to win. He gave the ball to Terry for good, and as the Steelers are doing with Kordell, put all of their confidence in him. A young guy from a small college in Louisiana blossomed into one of footballs all-time greats... all because his team believed in him. They saw the ability... it just took time for it to be unleashed.

Kordell has that same potential. This guy has only had two full seasons as an NFL quarterback. The same as Terry before he blossomed. I hate to compare Kordell to such a great player like Terry this soon, but the circumstances are just too similar. The latest draft may do for Kordell what the '74 draft did for Bradshaw. It takes the right chemistry to make it work. All the right pieces are there. Now, they have to put them together. I feel Kordell is an exceptionally gifted player who has a lot of great years ahead of him... hopefully as a Steeler. I'm not gonna make any excuses for him, but I will say this... give the man time.

We've all seen this before. I tell you, it's like deja vu. And if history proves me correct, that one for the thumb is well on the way. You have to believe, people. That's what the Pittsburgh Steelers are all about. Overcoming adversity. If Cowher and Rooney entrust a whole team in Kordell's hands... then so do I. They see something in him that we all may not see just yet. But it's there... it's there. You can't honestly say that Kordell didn't bring some excitement back to the 'Burgh when he came to this team. The difference is that there weren't as high of expectations then as there are now.

I think this was a wake up call to a lot of people, and maybe a blesssing in disguise. This losing season may be the best thing that could have happened to him... to the fans... and to the Steelers organization. Last season put alot of things in perspective. Because of it they've addressed issues they may not have addressed, and came away with a hell of a draft. They made a lot of free agent moves that they otherwise may not have made. With the new stadium on the way and a young team out to prove something, I think that the Steelers of old have just been ressurected into the Steelers of new. With players like Kirkland, Dawson, Bettis, Bruener, Flowers, and Kordell, plus all the young talented playes waiting for a chance to shine (like Orpheus Roye... he's ready to show his stuff), it's time to start planning the Super Bowl parties, 'cause I gotta feelin'... One for the thumb, baby!

Dennis Wright
Las Vegas,NV


---
Submitted by Saraya


I believe in Kordell. He's got the talent, he has shown that. I don't blame the bad season last year on him alone. There were several balls dropped that should and could have been caught. I do think that all of the hype went to his head and he didn't focus on his skills the way a young QB should. It sounds like last year was a wake up call for him, "I pray". To all true steeler fans, we have had bad years before, and we will have them again, but what makes us better than others is that we never give up hope that the team will pull together and win for themselves and for us. As long as Kordell wears the black & gold, I'll cheer for him and every other player every Sunday. This will be a better year, I can feel it.


---
Submitted by Thomas Bragg


(Ed. Note: I received this message several weeks ago, unrelated to the comments at the right, and I though it presented an interesting contrast in opinions, so here it is.) With training camp nearing, it's time to take a hard look at the Pittsburgh Steelers' newest millionaire, starting QB Kordell Stewart. After a dismal '98 season, the time has come for Kordell to step up to the plate and finally prove that he is the man to lead the Steelers into the next century. To put it very simply, the time for excuses is over. This means its time for Kordell to either put up or shut up! The Steelers have given him the ultimate vote of confidence by signing him to a brand new 5-year contract (3-year extension) that will take him through the 2003 season. That's pretty good for a guy that in '98 couldn't hit the broad side of a barn if he was standing ten feet from it. Let me just say that Kordell has the talent to take the Steelers to the next level, but only if he realizes it and then uses it. The Steeler's have taken steps to upgrade the O-line and WRs. So what does it mean? The tools are now in place and it's up to Kordell to make it work. My personal feeling is that he will succeed and the fans will see a more seasoned and poised QB than the one they saw in '98. However, if the team starts losing, look for Kordell to be in a different uniform when the 2000 season begins, because as much as Rooney and Cowher like him, they will not tolerate losing, even from Kordell Stewart.

Thomas D. Bragg
The Bad...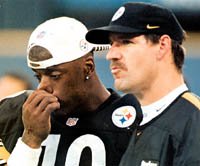 ---
Submitted by
Swank in Wisconsin


Slash or Trash? The truth is, not one of us really knows! I've been saying this since last year and nobody listens to me, but I will try again. GET A VETERAN QB (NO, NOT TOMZACK... SOMEBODY WHO IS WORTH A DAMN) AND MAKE KORDELL EARN THE STARTING SPOT! I was praying that last year the Steelers would bring in Jeff Hostetler, then put the starting spot up for grabs. Face it, people... the only reason Kordell is playing week after week is that we have no other choice! Tomzack should have been gone for at least two years now, and Gonzalez and Wright are nowhere near ready. Unless Stewart improves by leaps and bounds this season, WE HAVE TO BRING IN ANOTHER QB FOR NEXT YEAR. And before somebody brings up our receivers' inability to catch the ball, how many times has Stewart had people wide open and not given them a look?! I can think of 5-6 times, and I've only been able to watch three games this year. I appreciate Cowher's loyalty to his players, but it is time that he admits he may be wrong about Stewart and look for other options.

Swank in Wisconsin

---
Submitted by
Talv18@aol.com


I AM DOWN TO THE LAST COUPLE OF GRAINS OF SAND OF PATIENCE WITH THIS GUY. IT'S ALMOST TIME TO GIVE UP ON CORDIAL AND ACCEPT THE FACT THAT WE WILL TRADE HIM AND THEN HE WILL BECOME HTE GREATEST QUARTERBACK OF ALL TIME... JUST TO SPITE US.

---
Submitted by
Holly Manley (aka, "Anonymous")


I had the unfortunate opportunity while surfing this afternoon to come across a article where Kordell Stewart compared himself to O'Donnell, Tomczak, and Bradshaw, who at one time were all booed. O'Donnell, maybe, but let's face it, he took us to Super Bowl. Oops... Kordell has not done that. Tomczak, not always a great player, but a man who has more heart than Kordell has in one finger. Didn't he take us to the playoffs? Make no mistake, I would not want him for a starter, but he has come through for us. This guy blocks, tackles, and does everything to get the team going. Bradshaw? I wish KS would stop comparing himself to Terry on any level. TB called his own plays, and was a great leader. I was fortunate to see him the last game he ever played against the Jets, and he passed for 110 yards in 10 minutes, scored 2 or 3 TDs and then was taken out by Gastineau. [Ed. note: Bradshaw actually removed himself from the game after throwing his 2nd TD pass. He destroyed his "surgically repaired" throwing elbow on the first TD pass, but continued to play hurt until he'd thrown the 2nd TD. A truly amazing aspect of Terry's final game: not only had Terry not thrown a pass in practice ALL season, he hadn't even been with the team! He came to Pittsburgh that week, and had never thrown a pass, even in practice, to several of his wide receivers! Incredible. It was the only game the Steelers won in that final 5-game stretch, but it was enough to boost them into the playoffs. But I digress...]

Over the years, I have received a lot of flaming e-mails regarding Kordell Stewart, especially when I had my own web site called Lloyd's Land. I can understand it if people want to support Kordell. It is an opinion... I have mine, and so do the other people who have commented on the Good, the Bad, and the Ugly. But to be objective is what matters. Each person sees the game in their perspective and should be entitled to state that opinion without being harrassed by other Black and Gold fans with the ##_# remarks.

Comment: What's wrong with Bettis? Hello, is anyone home? He's missing Tim Lester. It would or could have been 23-0, if the cornerback had not let the ball bounce off his chest and Hines Ward caught it in the end zone. Or was I watching another game?

What this all boils down to is whether Kordell has the ability to become a winning QB in the near future. I say potatoe you say potato. Let's face it... Steve Young, Dan Marino, John Elway, he's not. And if anyone wants to write me and argue about it, be my guest. Kordell is not a thinking QB, he can't even make a statement without putting his foot in his mouth. He had two good years (or so I'm told). I feel it was due to Johnson, Thigpen and Bettis. Now the defense has his number, and I don't think Kordell wants to run like he use to... might get hit you know.

Let's hope he gets better. I say he won't, but I can admit, I may be wrong. Can a Kordell Stewart advocate admit they have made a mistake? We'll see.

Holly Manley
a/k/a Anonymous
P.S.-- Hey Tim, all of a sudden I feel infamous. Whoops, gotta go... I just received a molatof e-mail.

---
Submitted by Joe Biangone, Jr.


Lets face it folks... Stewart is not the Steelers guiding light of the future. The only reason he's even still in there is because the front office and Wild Bill don't want to own up to making an 8.1 million dollar mistake (Kordull's signing bone-us). There's still hope of salvaging a playoff bid right now, but if Kordull stays where he's at, well, I'm looking forward to a high draft pick next year. I say yank him now and put him at wide out where he can make a contribution to the team. All you people who think he's going to be the next Marino or Elway, PLEASE, put down your crack pipes and face reality. I've been a Black and Gold fan all my life, watched them with Bradshaw and Bubby at the helm, and I'm here to tell you now, Kordull isn't the answer for a fifth ring.

---
Submitted by Frenchman in OH


Dear Kordell,
How can I say this delicately... you're NOT good! It is a shame from a fan's perspective that Dan Rooney invested so much dough in you! Now we're stuck with you. Don't get me wrong - kudos to you and Leigh Steinburg for getting such a huge deal. I'd like to hire Leigh to negotiate my next raise, but I hear he only works with quarterbacks. But as a fan, I need options and the Steelers don't have any of those. Mike, Pete and Anthony are professional clipboard carriers and soon, you will be too, once Mr. Bill wakes up. Don't fret though - every other living ex-Steelers QB has come up smelling like roses. Bradshaw's on Fox, Malone's has his own show on ESPN, Bubby has two rings and now starts (gasp) in Denver, and Neil got big money to leave Pittsburgh, sucked, and now finds himself as the starter in Tennessee. Certainly, your pimply pocked face would land somewhere. I hear Houston is taking applications for a QB. In fact, your long term job security will center around the league's continued expansion. But let's face it, Kordell - you' ve done a fantastic sales job - to Bill, to Dan and to Tom. These guys don't seem to follow you on game-day. Unfortunately, I do. I've had enough! I'm ready for change. Even if it means "sacrificing" the season four games in.

Frenchman in OH

---
Submitted by Jimmy Grant


Let's face... it the guy blows. He tries hard, but he blows. He is a far worse quarterback than O'Donnell ever was. I'm tired of hearing he doesn't have any receiver and other BS. Let's face it, he is not the quarterback of the future. The Steelers need to go out and get a guy. This team is not a good team because simply they will not score points. They will not beat any good teams with Stewart. Holding Jacksonville to 17, you should always win.

Jimmy Grant

---
Submitted by Holly Manley


Believe it or not, I feel sorry for Kordell Stewart. I never thought he had the capability of becoming a star QB, and said it all along. The Steelers have had the unfortunate inability to pick a QB since Bradshaw. To say that Bradshaw had a bad year in 1970 is irrelevant. It's what he did after that. To say that Kordell had glowing years is ridiculous. When he became QB he threw interceptions, and if it wasn't for Thigpen, Johnson and Bettis, he would have looked equally as bad. The press, TV and Bill Cowher have made this guy seem as if he's something special. Everyone was looking for a star. Let's face it. There were a few out there, and some of them remain, but Marino, Elway, Young, Montana, Farve, and the men that came before them are a dying breed. They were thinking QBs. There are guys who are more than adequate now, but never had the chance for whatever reason to find that greatness.

I have to blame Cowher for a lot of this. His ego stands in the way every time. People can put down O'Dummell (that's for you Tim), but I don't blame him for the Superbowl. He was never a thinking QB. He did what they told him to do, throw where they told him to throw, and I think that is what cost the Steelers the Super Bowl.

Bettis can't even score. What the hell were they thinking when they got rid of Tim Lester? Bettis will be the next to go... watch.

---
Submitted by Chris


Does anyone else feel shell shocked?

OK... I've remained on the Kordell bandwagon up until now, similar to the way I hung in there with O'Dummell until his Super Bowl heroics ruined my day and any Steelers chance of a fifth ring.

I'm jumping off in a hurry today. And I'm jumping off the Cowher wagon as well. How many poor performances does a team have to have before someone, anyone, starts looking at the coaching staff for answers, and to lay blame. I'm personally tired of the coddling Cowher seems intent on giving Kordell. I'm tired of the smiles and laughter between the two on the sidelines as if they know something we don't. A Steelers football season isn't a joke to me. It's serious business. I've invested a lifetime of very fond memories in this team only to watch free agency, off and on field offensive and front office complacency, and an obvious lack of work ethic and respect for the opponent make me sick to my stomach on a weekly basis (Now I know what Bears fans have felt like for so long).

The seasons a wash. Trust me. The team needs to start building for the future. Now. I could understand the losses if I saw rebuilding going on. It's not.

Kordell IS NOT the guy to take this team to the next level. Put Gonzalez in until a real QB is either drafted or signed. Let Kordell carry the board for awhile to get a fresh perspective of the real world, then get rid of him and the big salary.

The offensive line absolutely sucks. Dawson is the only talent I see on that line. This is a major project in and of itself. It's going to take big off season money to fix this catastrophe, so start saving money now by dishing Kordell to the f#@%ing Bungles, or something.

I like the receiving corps. They're talented, but not gamers. We're stuck with them for now, so start playing Edwards as much as humanly possible. The kid's going to be a star. Use some of the Kordell money to sign a go-to deep threat guy to compliment him, like Thigpen was.

The running game remains bright, but we'll never see it flourish because of a pitiful offensive line, a bad QB, and unimaginative play calling (sound familiar?). It's not hard to figure out that teams are still stacking the line to stop the run because Kordell isn't feared as a serious threat at QB.

The defense is fine (still awesome, actually). My favorite part of the team. Always has been, always will be. So stop screwing it up by allowing it's stars to run to the gold every year (See below).

One last thing to the management: PLEASE stop letting valuable, important, fan favorite players go to free agency!!! Hire a f#@%ing accountant to finagle the salary cap like the 49ers have done for so many years. Maybe then we can return to the days where hoping for a championship team didn't seem like such a pipe dream.

Christ, I hope I'm wrong. Someone tell me I'm wrong, because I never thought in my entire life I'd ever hear myself say that I wish O'Dummell was still the Steelers QB!!!!

Thanks. I had to vent and I appreciate you allowing me the soapbox to do so.

Chris

---
Submitted by flanman


Man, I am tired of this for the last 2 seasons. We have put all our eggs in one basket (Kordell) and the now we we are in trouble. He has been in this league way to long to still be playing this poorly. He may show flashes, but he is going to be a mediocre QB at best, and he was a much better receiver than he will ever be at QB. I am a diehard Steeler fan, and I am proud of our defense. I love Bill Cowher, but he has got to make the right decision and get us a better QB and soon. We will never win a Super Bowl with Kordell behind center, and if you are an honest and true Steeler fan you must see that too.

flanman in AZ :(

---
Submitted by Tom Bragg


After reading the article by columnist Ron Cook (Kordell a Far Cry from Good a QB), I totally agree with him that Kordell Stewart is definitely NOT the man to lead the Steelers into the next century. How many games will have to be lost, and how many seasons will fall by the wayside before all the excuses regarding Kordell are stopped! I personally have stuck up for Stewart when everyone else was ready to murder him in the past, but after the latest FIASCO between the Steelers and Seahawks, I can no longer back Kordell Stewart. It's fine to accept responsibility for making a mistake, but thats only part of it. You have to learn from your mistakes so they are not repeated in the future. Kordell's inability to hit a wide open reciever is mind boggling! He either throws the ball too far in front or too far behind or six feet over the reciever's head! And before anyone says that Kordell is learning a new offense, that is NUMBER ONE, GRADE-A BULLS#!T ! We are talking about basic fundamentals that anyone playing the position of quarterback must have. From high school, to college, to the pros, it makes no difference. Kordell Stewart simply does not possess the passing skills required to be an NFL quarterback. I will agree that he is a very talented runner and playmaker. However, the position of quarterback can not be played soley with the legs, it also must be played with the arm. And that is where Stewart is lacking. Obviously, the Steelers cannot do anything about their QB situation now that the season has started, but after this year is over, this is an area on the team that must be looked at. Everyone needs to face the facts and stop making excuses for Kordell. From the front office, down to the guy that parks the cars at Three Rivers Stadium, admit it! The Steelers have made a huge mistake in Kordell Stewart!

Tom Bragg
http://community.webtv.net/francoharris/TomsPittsburgh

---
Submitted by GHenry4995@aol.com


I dont know what football you people have been watching but Kordell just plain sucks and will always suck. I know all the steelers have a lot of problems, but mark my words... Kordell will screw up this year. He's a Quarterback wanna be. Post this at your site.

---
Submitted by Nat Laborde


As a life long Steelers fan, I was pretty shocked at Kordell's behavior in losing last year. A Leader? Mr. Stewart, what gives? Everyone goes though crap in life. Correct me if I' m wrong, a real leader of a PRO FOOTBALL team you were NOT. I would have poured beer on you too... not for losing, but for being a BIG CRY BABY last year and the way you treated your coach, hell, your friend, Bill Cowher. You totally disrespected your team, coach, fans, teammates, and yourself on t.v... GROW UP OR GO HOME!!! AND NO, I don't care what anyone says, this is a grown man who gets paid a stupidly LARGE amount of money to play a kid's game for 4 months a year. I would love to make that kind of money and only work a couple months a year. I now understand what Jack Lambert meant when he said "All Q.B.'s should where dresses"! So in 1999, win or lose, don't act like a little bitch-ass, Kordell!

GO STEELERS... with or without Kordell!

NAT


---
Submitted by Doug Fredericks


Every time the government embarks on a new social experiment like school busing or socialized medicine, it fails miserably. Why do the Steelers think their social experiment with Kordell will end any differently? Kordell is a product of a razzle-dazzle, Wish Bone based offense in college. Has any such NCAA Quarterback ever made it as a starter in the NFL, let alone become a Super Bowl quarterback?

Kordell Stewart is an anomaly as a quarterback. He's different enough to perplex defenses, but as we saw last year, not so talent laden that they can't figure him out enough to shut him down. In his defense, our beloved Front Office did not exactly help him out terribly by dishing his number one receiver off to another team. I will also concede that the Sherman offense was a contributing factor to his failure, but a great athlete will adapt and overcome - providing they want to. His Offensive Line didn't exactly treat him as royalty either. But come to think of it, how did Kordell treat his fellow offensive players? Seems to me what I heard from him repeatedly was, "it's not my fault." Hmmm, what's that say about his view of his fellow offensive players? The way my pappy raised me, was, "to get respect, you gotta give respect."

In my mind, this is Mr. Kordell Stewart's number one problem. He is self-centered, conceited and immature. He's got the tools, but needs a serious attitude adjustment. He needs to worry less about getting his hat on backwards for the cameras on the side line and more about opening his ears and eyes to what his coaches are telling him. He needs to sit off by himself after a bad series and chew his own butt. Last season, I practically puked every time I saw him joking and primping himself after a horrendous offensive series, like it was just another day at the office. I've never seen Aikman, Young, Kelly, Montana, Elway do this. When their offense screws up, there is fire in their eyes and they can't wait to get back on the field to make up for it. I just don't see this ownership or field generalship from Stewart. He needs to praise his offense in public and most importantly take ownership of offensive problems - at least in public. Many an offensive line has taken a dive and let their quarterback get creamed when deserved. I'm not sure this has happened yet to Kordell, but it's gotta be getting close. My favorite definition of leadership is, "it is the art of inspiring ordinary people to achieve extraordinary things." An NFL quarterback definitely needs to have this quality. Not all great quarterbacks have been blessed with 10 Pro Bowl players on their offense.

Can he make it? Man, I hope so. Frankly, I don't know who else we have to turn to. I really think the Front Office has gambled and possibly lost on this one. Banking your future on such an unorthodox style of player is a big departure for a conservative team like the Steelers. I like Stewart's skills as an athlete, not so sure as a QB, but as a utility "slash" player he's great. In the "slash" role he is more of a follower and less of a leader, and I think that suits him better.

Kordell, I think you really might have the tools, please show us you've got the attitude to go with them.

Doug Fredericks


---
Submitted by Anonymous


(Ed. Note: The following message was the catalyst for this topic. Needless to say, it got me a little stirred up. I received it "off the record" from a respected fellow fan who gave me permission to use it on the condition that they remained anonymous.)
I am sick and tired of Kordell Stewart comparing himself to QBs like Aikman, Young, and Farve (maybe Farve... not a big fan of his either). Kordell, please put a sock in it. I don't know who put you on the "top of the world", but in my estimation you are "an average guy now based on how the season went" hanging on the coat tails of other great players who have now departed. You had a bad year because there was no one to make you look good. You need to take a lesson in Humility 101, or maybe Bill Cowher should stop wispering in your ear.

Make no mistake, I think Kordell is a waste of time and energy. I'm still pissed off about them letting go of Quinn and picking up Gonzalez.

Kordell is not the great white hope. O'Donnell was better. Not as exciting, but he came through. I don't know why everyone thinks the last few years have been exciting. He threw about the same last year as the year before, including interceptions, except we did not win. Check the stats.

I'm not sure why Kordell seems to think he has the capability to lead this team. My guess is it's Cowher. He tells people he's behind them, builds them up, and I'm sure he's talking a lot of shit to this kid. I'm sure KS is not as much BS as I think, but he really doesn't know how to talk to the press.

Sincerely
A Fed-Up Fan

P.S.---You know what really pissed me off was Rooney saying that he wanted Lloyd and Woodson to come back for 1 day to retire Steelers. Put two socks in it, Dan, and I don't mean your mouth.