It's Not a Pretty Picture, Folks
Mac & Wife's Premature Preseason Prognostication
Skip to Fan Comments
Updated 8/9/00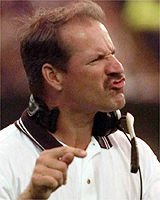 (This piece was originally posted by McMillen & Wife on 7/19/00, BEFORE any preseason games had been played)


Reality Check


I love the Steelers, folks. It really goes against my grain to paint such a negative picture of the upcoming season this far in advance. But 'da facts are 'da facts: In spite of some off-season improvements, the Steelers will fail to contend for a playoff spot (let alone the Super Bowl) for the 3rd straight year.

Now, I'm not complaining or whining about it... just stating and accepting the reality of our situation.

Reality. Oh, it's an ugly word in the Steel City these days. But if we want to keep our sanity, this is definitely a year we need to look at the team realistically right from the outset; no rose-colored glasses, no dellusions of potential playoff berths, and no fantasies about a fifth Lombardi Trophy.

My objectives for the team this season are realistic and attainable: improve over last year (even if only marginally), and continue to rebuild toward a being a winner. Several very positive steps in that direction have been taken this offseason, but we won't enjoy the fruits of Cowher & Company's labor for at least a year or two. Some seeds are planted, but harvest is a LONG way off.

Below are the top ten reasons (in no particular order) our Steelers will fail to be a contender in 2000.

1. The team simply isn't very good. Simplistic? Yes... but absolutely true. And while this problem alone isn't enough to guarantee we'll be sitting home come playoff time (can you say '99 Dolphins?), it's one helluva start. The Steelers' overall lack of depth and talent, at least when it comes to experienced players, is still glaring, even with their numerous off-season acquisitions. Offensively, the only position where we are truly solid is running back. Even behind a below average offensive line, Bettis is tremendous; a top NFL back who adds veteran leadership to the team. Huntley has loads of talent and tons of promise. Fu and Witman are gravy... solid players who perform their roles in well. All in all, we have one of the best and deepest backfields in the league. Unfortunately, once you look beyond the RB position, the pickins' get decidely slimmer. Which brings me to point #2...

2. Our wide receiving corps, though improved, remains a liability. Obviously, this unit made huge strides in the offseason, if nothing else by virtue of drafting Plaxico Burress. Kordell (or whomever) now has a group of young, talented, promising receivers to throw to. However...

These guys are incredibly inexperienced. As a unit, these same receivers (less Burress) stunk up the league last season. True, Plaxico should become a legitimate threat as the season progresses, but nowhere near enough to get us over the hump. A more mature Troy Edwards will prove he is not the drop/flop he appeared to be for much of the '99 season and will likely lead the team in receptions again this year. Hines Ward showed enough promise last season to become a fan favorite. But none of these players runs precise routes yet, and frankly, I still doubt sophmores Edwards & Ward have a total grasp of Gilbride's offense in spite of a year under their belts. The only true veteran on this squad is 8-year man Courtney Hawkins (who just signed a 1-year deal), but frankly, were it not for Blackwell's injury, he might not have even made the team.

In any case, once you get past the talented but inexperienced projected starters, the remainder of our WR's are pretty benign. Underachieving Will Blackwell has shown brief flashes of brilliance; so has Bobby Shaw. And rookie Danny Farmer is a HUGE receiver who we may hear plenty from in the coming years. But none of these players will be a real factor this year.

Yes, this unit has been dramatically improved, and while I suspect our receivers will be real strength by 2001, inexperience and suspect quarterbacking makes them a weak link in 2000, especially in the early going. Speaking of quarterbacking...

3. We simply do not have a legitimate starting NFL QB. Kordell is clearly not the answer... and neither is Kent Graham. I'm thrilled with Graham as a backup and I think he's an nice upgrade over the likeable but scatter-armed Mike Tomczak, but the thought of the immobile Graham as a starter makes me shutter.

Unfortunately, Kordell under center is perhaps more frightening. Not necessarily because he's any worse than Graham, but because Stewart's damnable, ill-advised contract extension of his has put us in a situation where we're forced to use him, thus preventing us from drafting/signing a quality QB (can you say Chad Pennington?). Stewart is a player that by all rights should be released or relegated to backup status, folks (his fat salary dictates release, in my opinion). His electrifying '97 season appears to have been a fluke, and I've since seen little evidence that Kordell has what it takes to be the orchestrator of a top-notch NFL offense (or even an average one). Worst of all, his leadership skills appear to be even more suspect than his passing skills.

It's not that I don't like the guy... I've been a staunch Kordell supproter in the past, and he's still Sandy's favorite CURRENT Steeler. Obviously, I truly wish Stewart all the success in the world and I will NEVER forget the spark and incredible excitement he added to the team during the '95-'97 campaigns. But in my heart of hearts, I just don't believe the "magic" is ever gonna return. Suffice it to say, Kordell has to produce NOW, and in a big way. The Steelers spent their 1st round picks in the last two drafts on wide receivers. Will they be enough to scratch Kordell's itch? I doubt it. Having said that, you have no idea how happy I would be to eat these words... I'd sop 'em up 'wit a biscuit, bruthas. Kordell, I'm still pulling for 'ya, dude. If we can somehow muster some decent line play and protect you and open holes for Bettis & Huntley, maybe you can prove me wrong. Which leads me to...

4. The offensive line is still a shambles. Folks, this is where we've been hit the hardest over the years, and it's our biggest pitfall on offense (yes, bigger than the quarterback quandry). The personel losses here have been terribly disruptive and downright devastating. Perenial All-Pro Leon Searcy: gone. Pro-Bowler John Jackson: gone. Versatile veteran Justin Strzelczyk: released due to injury. And if you wanna jump in the way-back machine, Duval Love: gone. I'm sure I've probably forgotten someone. Folks, these players have never truly been replaced. First-round draft pick Jamain Stephens was supposed to be the answer for Leon Searcy... uh, OOPS. Great things were expected from 2nd-rounder Brendan Stai... double OOPS. Of course, Dermontti Dawson is still the best when healthy and will someday reside in Canton, but as his season-ending hamstring injury proved last year, he is mortal... and his best playing days are probably behind him. Still, he's a great centerpiece to build around, so maybe there is some hope for this unit.

The rest of the line, although markedly improved over last year, remains suspect at best. Wayne Gandy was a free-agency disaster last season who never came CLOSE to being worth the big money the Rooney's spent on him. He needs to have a big year for the offense to have any chance at success. Unfortunately, Gandy is the only real veteran we have capable of starting at left tackle. Sophomore Kris Farris shows promise at right tackle, but is still really an unknown. Rich Tilski should be a nice upgrade at right guard, and he'll be backed up by veteran Tom Myslinski (who we coaxed out of retirement). Myslinski's signing seems strange to me, but I guess when you have all of these young players on the line, some serious veteran guidance can't hurt. Alan Faneca was shaky at best last year, but he was a rookie, so we'll cut him some slack. Tackle Shar Pourdanesh is waiting in the wings should Farris falter, had Shar had some nice moments in '99. But is he starting caliber? Don't think so. Of course, ALL of these guys will see action, but I doubt any have what it takes to be part of a great, cohesive offensive line yet. Having said all this, if the starting line up can remain healthy, then this unit HAS improved over last year. If injuries set in, however, we're doomed.

One positive note: while I doubt he'll contribute much this year (at least, not early in the season), it's worth mentioning that the selection of 6'5" 320 lb OT Marvel Smith should help eventually. Obviously, the proof is in the putting. After all, most of us expected Stephens to become a shining star, yet... it didn't quite turn out that way. Smith has had knee problems, and by most accounts, he didn't perform nearly as well in '99 as he did in '98. As with all draft picks, he's a crap shoot and only time will tell. But my gut tells me we've got a good one here.

In a nutshell, the offense has improved marginally. But the nagging problems from '98-'99 certainly haven't gone away. Run blocking has become such a weakness that one of the best backs in the game barely broke 1,000 yards last season. Pass blocking has been pitiful for the last couple of years. Which means we're still gonna struggle, folks. A LOT. And we're going to have to depend heavily on the defense. In the glorious past, that wasn't such a problem. But my, how things have changed...

5. The defense has been systematically dismantled by free agency. Sure, we still have Pro-Bowl caliber players like Kirkland and... uh... well, okay, at least we still have Kirkland. REALITY CHECK ALERT: the Emperor has no clothes! The mighty Blitzburgh defense just might be dead and buried, folks. Long gone are bonafide superstars Rod Woodson, Greg Lloyd, Carnell Lake, Kevin Greene, and Chad Brown. Gone are solid performers Darren Perry, Deion Figures, Joel Steed, Willie Williams, and countless others. Kirkland and Henry are the only two remaining players on defense from the Super Bowl team. The defense we'll field in 2000 will NOT be worthy of a nickname, folks... at least, not one we can print here.

We DO, however, continue to shine in one area: Linebacker. I don't know what it is about the Steelers, but they've fielded excellent linebackers for my entire life, and this year is no exception. A slimmer, faster Levon Kirkland pairs with rising star Earl Holmes for one of the best inside linebacking combos in the league. Gildon, while no Greg Lloyd, is still very solid on the outside, and opposite him we have a very promising young player in Joey Porter. We lack depth a LB, unfortunately, so if one of our starters goes down (God forbid), we could have problems.

6. The defensive line will launch an even PUNIER pass rush. It's a good thing we have outstanding LBs, folks... with the makeshift defensive line they're backing up, they'll have their hands full on almost every down. Our defensive line launched a pathetic pass rush last year with better personel, and more importantly, their ability to clog the running lanes was, well, downright miserable. This year is gonna be worse... a LOT worse.

By itself, the loss of rising star Orpheus Roye via free agency to Cleveland was a major blow. But combined with Joel Steed's retirement, it's devastating. Losing Steed was unavoidable... losing Roye was unconscionable. Obviously, there's no way they could've offered Roye the kind of money Cleveland did. But that's not what burns me. No, what makes be wanna shut my hand in a car door is the fact that we didn't get Roye signed to a multi-year deal at the end of the '98 season BEFORE he became an unrestricted FA (yet another reaon I'm glad the Donahoe era is behind us).

Thankfully, we were able to pick up a reasonably good stop-gap at nosetackle in Kimo Von Olhoffen, but sorry, Kimo... you're no Joel Steed. That makes left DE Kevin Henry our premier lineman. The problem is, Henry ISN'T a "premier" player... he's solid and reliable; no more, no less. At right end, Chris Sullivan and Jeremy Staat figure to split time; neither is anything to write home about.

The old saying goes that football is won in the trenches... it's true. Both our offensive defensive lines are liabilities, and neither can get the job done where the running game is concerned. The other old saying is that defense wins championships... um, not THIS defense, folks. There are still more holes...

7. Our secondary has been a sieve in recent years. Now, let me start by saying that I think we have some pretty decent corners in Chad Scott (if and when healthy) and DeWayne Washington. Washington has taken some abuse, but all in all, I think he's pretty solid. Scott Sheilds is adequate at free safety, and Lee Flowers is an outstanding strong safety and a very vocal team leader. In fact, Flowers is my favorite player at the moment. Anyone in this era of free-agent prostitution who will take A MILLION DOLLARS LESS to stay with his current team is something special, and that's exactly what Flowers did.

In any case, there are two nagging problems our secondary faces. One is a deplorable lack of depth. Deshea Townsend is the only other CB worth noting, and he's below average. Not good, folks. We picked up a potentially solid player in rookie DB Hank Poteat, but he'll likely be viewed as a vulnarability any time he's on the field while he's still learning the system. The second and more frustrating problem goes back to our defensive line... with no real pressure on the QB, a LOT is asked of our DB's. You can't expect our secondary men to cover opposing receivers all over the field while the QB is able to stand unmolested in the pocket. It just won't happen. I realize that in our defensive scheme, the linebackers are the primary pass rushers. But our suspect D-line is going to allow teams to run, and that makes everyone behind them (including the LBs and especially Safeties) MUCH more vulnerable to play-action passes. I attended the game in Pittsburgh vs. Baltimore last year, and one memory still lingers just a bit too vividly: Qadry Ismail caught 6 passes for 250+ yards and 3 TDs (each over 50 yards). Yoi!

Now it's time to shift gears and look at some areas affecting the Steelers OFF the field...

8. Cowher doesn't have control of this team. Look, Bill Cowher is my guy... he has epitomized the team to me since he got the gig in '92. But signs that the inmates are running the assylum are becoming more evident. The most recent example of this is the now infamous Holmes/Huntley locker room brawl. Sorry, folks, I don't buy into the rhetoric I'm hearing from many of you that near-riots like this are not only "normal," they're "healthy." Plain & simple, that's bull$#!t.

First, the fight itself... what troubles me here is that the fight didn't start and end with Holmes & Huntley. Other players jumped in and TOOK SIDES rather than simply splitting up the combatants. What in the hell is THAT all about? I realize that teams often develop an offense vs. defense mentallity, but not to THAT extent. To me, it signals there's already a rift in the club... not a good sign before training camp even opens, folks.

But beyond that, it's not necessarily the act of fighting that worries me. In fact, it's very likely that whatever nonsense precipitated the bad blood between Holmes & Huntley has blown over by now. No, what really bothers me is that these players were undisciplined enough to let the brawl happen in the first place. I can guarantee none of Chuck Noll's teams, even with all those egos in the glory days, ever saw a locker room erupt into a riot with players wielding chairs and stools as weapons. Noll ruled with an iron fist (or was it steel?). He put the fear of God in his players, even the future Hall of Famers. Likewise, I think it's time for Cowher to jerk hard on the reins and get this team whipped back into shape. Otherwise, we're in for a longer "dark" period than any of us cares to admit.

Lest ye think I'm over reacting to the locker room incident, there ARE other signs of chinks in Cowher's armor. The sideline incident in '98 with Kordell is as vivid as any example. Even more telling are back to back seasons with 5 game losing streaks late in the year. To me, the coach is responsible for a team that QUITS playing before the season ends. All of these breakdowns wreak of lack of discipline. Perhaps it's that the players just don't buy into Cowher's shtick anymore (e.g., the legendary "10 game season" speech from '95)... I dunno. Whatever the case, I think it's time for Cowher to stop worrying how to be a "players' coach" and start concentrating on how to be a "winning" coach.

9. Our schedule is pretty darn tough. 'Ya know, you'd think that with our lousy record last season we'd catch a break here. No such luck. Let's break it down a little:

We play two games vs. the AFC Champion Titans, and two games against the AFC team oddsmakers still favor to be in the Super Bowl, the Jaguars. We'll also face the Redskins, who many pundits are picking to represent the NFC in the Super Bowl. There's a visit to New Jersery to play the Jets, who have Vinnie back and will definitely have a chip on their shoulders. We also can't overlook two games against the Ravens and a game against the Raiders; these clubs were probably the two best AFC teams not to make the playoffs last year. To be honest with you, I can't look at our schedule and see even one game that's a "gimme." It would be nice to think we can chalk up at least 4 victories at the expense of the Browns & Bungles, but we all know how that turned out last year. That leaves the Giants, Eagles, & Chargers... none are very good, but then, neither are the Steelers at this point.

10. Face it... we're in a rebuilding phase. Now to some of you, it may seem like I'm just being a master of the obvious with this statement. But let me tell you, I get e-mail from fans all the time predicting a 12-4 season, glorious victories in the playoffs, and even the possibility of Lombardi Trophy this year. To those people, I say this: I love your enthusiasm & optimism, bruthas... BUT FOR GOD'S SAKE, OPEN YOUR EYES! We'll be fortunate if our Steelers manage to reach .500, let alone earn a Super Bowl bid.

The bottom line: Okay, so the 2000 edition of the Steelers is not that good. But we ARE taking steps in the right direction, and with the experience gained this year, I think we can realistically start talking playoffs again by the 2001 season. We are accumulating a wealth of promising, young players, and once they learn the ropes, they'll be a force to reckon with. In the meantime, we fans need to look keep things in perspective and take the current situation in stride. Accept the fact that the Steelers will have growing pains this season, and don't lose your facilities when the team falters. Having said that... are you ready for some football?


Fan Responses
The following articles are listed in the order they were received (with the most recent entries at the top). This isn't a "guestbook" format... I read and manually insert every message, so you may not see your submission show up immediately. Thanks a million for your comments, people!
Submitted by John Zrnich


Tim, I just read your article, "Reality Check" and even though it's the third week of the season, it looks as if your predictions are already coming true. One of the reasons I enjoy your site so much is because you appear to be the same type of fan I am. I've been a fan of the Steelers since I was about seven years old--Superbowl X (I don't even know why--the closest connection I have with Pittsburgh is some relatives living in Aliquippa). Nonetheless, I'll stick with 'em even if they go 0-16 this year (God forbid!).

That said, I have to agree, unfortunately, with your assessment of this season. The Steelers' strengths are indeed at linebacker and backfield, but obviously, that's just not enough. At the line, no protection on offense and no pressure on defense spells disaster over the long haul and that, combined with the strength of the AFC Central Division, tells me we are in for a l-o-o-o-n-g season. However, there are some promising prospects. The receiving corps, for one, which should be at least better than average with some experience, and Burress' willingness to go over the middle for tough catches is especially promising. Additionally, Graham seems to look for the tight ends more than any other quarterback in recent history, which could turn out to be a nice surprise since Breuner's been with the team a while and is familiar with Gilbride's offense. Finally, development of Huntley could help. I know he's only a little bit younger than Bettis, but as that famous archaeologist, Indiana Jones, once said, "It's not the years, honey; it's the mileage." and Bettis--not to take anything away from him--has plenty on his odometer.

Again, great job on the article and your website, overall. As a fan on the west coast, in Sacramento, specifically, I'd just like to add that there are two sports bars in town that host Steelers games if any other fan out this way reads this and is looking for a friendly environment. One place is a chain sports bar called "Bleachers" and is located on Exposition Boulevard right across from the California Exposition Center. They're in the phone book if you need the exact address. The other is a local "townie" bar on Folsom Avenue and 33rd Street, called "Cheaters." The owner is a die-hard Steelers fan and he's even arranged to have Iron City for those who are interested!

Go Steelers!
John Zrnich




Submitted by Steelers Fan in NJ


Tim, I just have to say that you're on the mark with your prediction and breakdown on the Great Steelers. You're one of the very few of us that seem to love the Steelers and still be realistic. Here's another person's prediction on why we will have a hard time this year, in the order that it will kill us.

1) Schedule. Even our teams from the 70's would have a hard time getting through this. 2 (L) vs Balt (00 division winners, DEFENSE), 2 (L) vs Tenn (tough, physical team), Jet away (L), Wash (L) (over-rated but very good), Raiders (L) (00 division winners), That's 7 losses right there. I figure we can (Hopefully) take the Cincy & Brownies series (unless we quit again). 4-7. Eagles and Giants (both under-rated with Eagles pushing Washington) I'd say we have a 25-30% of winning. 4-9 maybe 5-8 if lucky (or they overlook us). Chargers 50-50. That leaves us with the 2 vs Jags. Games are won in the trenches. Right now, their O-Line is worst then us (injuries). Our break is that we play them right away (wk 5-away). If their line is still hurting, we might have a shot. We'll really have a great shot if Baltimore's defense puts a tough licking on Brunell a couple of weeks earlier. If their line was healthy, give us 2 loses. Since their whole line is gone at the moment, we might squeak out 1 win. 2 wins if they quit by wk 12-home (if they are out of the playoffs race, very possible; too many early losses without healthy line). Realistically, we're looking at 4-12 to 6-10, more likely 5-11. The schedule says it all.

2) Trenches. Our O-line is in bad shape this year. #1 thing with a line is cohesiveness. You need time together to get that team work. You don't need great players to have a great line, just team work (KC). We don't have it. Next year or the following, we will have a very good o-line (if Dawson's here). All are under brand new contracts, nobody's leaving. However, this year, RUN Kordell RUN. This will be our Achilles heal (same with Jags). We will die because of this.

D-line is a big ? They don't have to be great, they just need to tie up the O-line. That's why we have our great linebackers. It all hinges on Kimo. Our only hope is that Dawson is a better judge of talent then the Bengles are, which is a great possibility. Cincy isn't known for their judgements but Dawson wanted Kimo since he said he had problems with him. We might be OK. It also looks like our rookies are coming along, but they are rookies, spot/rotation players.

3) Kordell. I totally agreed with the Steelers for giving him the large contract since you have to gamble sometimes before someone becomes a free agent. If Kordell had a breakout season (98), we never could have afforded him. It was a gamble. We lost. A pro is someone who is consistent and he's not. Even the great(?) 97 season if you remember he wasn't consistent. Lousy first halves and great 2nd halves. I thought (and the Steelers thought) that he would grow out of it with experience, he didn't. He's a bust. Can he change? I hope so. If he does, he has the potential to be great, but he's just not consistent.

Our secondary is actually really good. Problem was that they were on the field too much and had to cover too long and they quit on some plays and got burned. Maybe with some blitzing this year, the problem will be solved.

WR, young and upcoming. Slight weakness this year, will be great in 2 years. They should sit Hawkins this year and give the young kids the experience they need so that they can start peaking with the o-line in 2 years. We should only play Edwards, Plexico, Farmer and Malcolm with some Hines thrown in. No extra balls to go around (to Hawkins), he can teach the kids. Since this will be our strength in a year or two, maybe we can trade a player next year for an extra high draft choice.

Here's a big question for you. Currently we are stacked with talent at RB. There is no way that Bettis, Huntley and Fu can all get the ball enough (oh, throw in Zeus too). Do we: 1) not resign Bettis (save cap space to resign other players) or 2) resign Bettis now (lock him up) and trade Fu this year and get a high draft choice. I think KC might be watering at the mouth for him, a big quick back. He's KC's type of back and they are in the running for their division. Their O-line is only good for another year or two before retirements kick in. Is he worth a late 1st for KC right now?

I say sign Bettis and trade Fu (and I really, really like Fu).

In one -two years with the o-line getting time together and receivers getting experience, we'll have a great shot. Until then...

Sorry if it was long, but so will the season...

Steelers fan in New Jersey

p.s. These types of "talks" are always better over beers!!!!!!!




Submitted by Steeler Sean


I have been reading your site for a couple of years now and have it book marked as one of my premier Steeler sites.

A couple of comments concerning the Steelers. I am tired of hearing how bad the offensive line has been. Good quarterbacks make things happen. Yes, I believe the offensive line of the Pittsburgh Steelers isn't the best. However, quarterbacks worth anything persevere with sub par lines. Steve Young (for instance) still completes passes, knows when to scramble, makes the most of the situations he has. The same CANNOT be said of Kordell.

Kordell Stewart misses open targets, scrambles at the wrong times and shows an inablility to throw accurately on the run. Let's face it, football has changed. No longer can a team wait a quarterback out for 3 years for a limited time of productivity. Injuries, age, and contract negotiations negate a teams strategy to develope a quarterback. Don't get me wrong. I've was a supporter of Kordell till last year. He doesn't have it. He won't have it. He's had ample time. This should be his last year as a Steeler.

The running game needs a change as well. Fu has been a favorite of mine since he was drafted. I realize this is easy to say since his game against Miami, but I've liked him before then. His injury last year erased his name from football headlines, but this guy has talent. I don't know why Pittsburgh is high on Richard Huntley (contract extention), but he's a journeyman and will always be journeyman. He excels in pre-season and vanishes during the real season.

Receivers are a mystery. Who knows how they'll respond facing marquee cornerbacks this year. Time will tell. I'm hopeful though. A lot of raw talent, but no consistency.

Our pride and joy is our defense. The black and gold hit hard and leave a team black and blue for their next opponent. Our "D" can dominate a game if the offense can keep from going 4 and out every series. I don't think any team enjoys 4 quarters of football against a punishing defense like ours. Passing teams are a concern though. How many times can a Steeler fan relax when the opposing quarterback let's one go. I don't. My first thought is "Oh no"!

Still, I'm a Steeler fan til I die and am excited for the upcoming season. Let's hope Cowher has the guts to make adjustments and changes as needed. I want the Cowher who rushes up to players as they come off the field and gets in their face. I want to see the old Cowher who coaches with emotion and wears his feelings on his sleeves. The last couple of years, Cowher reminds me of a scene in the movie, Animal House, where all hell is breaking loose and Kevin Bacon is standing calm yelling, "All is well"!

-Steeler Sean




Submitted by "Diamond Dave" Bullock


Tim, you called it perfectly in your pre-season predictions. The games will be won/lost in the trenches (offensive and defensive). If the quarterbacks get time to throw the football, I think we have the skill at receiver to get open and make some plays. If there is no time to throw/run the football, then we will see a comedy of errors like last season.

We are going to need some strong performances from a cast of unknown/unproven offensive lineman this season to have any success. Kordell Stewart is never going to give you the quick decision making of a Dan Marino. Given time in the pocket, I think he can succeed with the core of talent around him (if the offensive line does their job). Most teams would love to have the core of running backs and in time maybe even the receivers that Kordell has at his disposal.

From what I have seen last year and early on this year, I am agreeing with one of the columnists. Keep Kordell and Tee since these are the only two quarterbacks who can escape for their lives in the crumbling pocket. If they plan on playing Graham, I think he will end the season in a body bag.

Keep up the good work.
Dave




Submitted by Larry


Hello! This is the first time I've been to your page. It is super! I love it. Well, got a funny story about practice the other day. Here it is: Kordell is back to pass, he fires a bullet across the middle of the field to Edwards, but like always, Kordell is off his mark. The ball hits the defensive back covering Edwards in the helmet and knocks it into the air. Edwards, staying alert and finishing the play, catches the helmet and runs for a touchdown. That would probably make a good highlight for the season.

Well, thanks for this really cool site... got it on my favorites now. I will be a regular vistitor.

Larry




Submitted by Jim Grant


Well, slightly over a week into camp and the offense is already struggling. Graham, as predicted, looks better than the other three qbs and he still doesn't look good. The quote of the day by Stewart: "I'm still learning... I don't have all the answers." In my mind, he doesn't have ANY of the answers. Last year, Tim, you ended your season discussion with "get outta here, you knuckleheads." So I will borrow your own quote and say to Kordell, "Get outta here... KNUCKLEHEAD".

Jim Grant




Submitted by Bob Carapella


TIM, YOU GAVE US 10 REASONS WHY THE STEELERS CANNOT WIN IN THE UP COMING 2000 SEASON .... I WILL GIVE YOU ONE REASON WHY WE CAN... NUMBER 10 .... LET'S HOPE SO!! GO STEELERS LETS MAKE THEM EAT THERE WORDS....

OPTIMISTIC BOB




Submitted by Steve Massey


This will be the last year for Kordell, Cowher and Three Rivers. It is sad to see them go, but it is time to move on.

The D-line we have assembled is a joke. Come on... retreads from Cinncy and New England? Washed up Bills LB Gabe Northern blew out both his hamstrings on the first day of camp. We picked up a Lion who hasn't played in a year because noone wanted him.

Kordell...what is there to say? Something happened to the guy after 97. Who knows what it was. I will always be fond of what he did, just like I will always be proud of Louis Lipps, but hey, that was a million years ago...

Cowher, I don't know about him either. Maybe there never was anything to him. I mean yeah he was a great rah rah guy and all, but the last year and a half he always has a bewildered look on his face in a crisis. They will let him go, three straight bum years won't be tolerated.

People can boo Jerome Bettis all they want to, but he can't do anything when he has nothing in front of him except knuckleheads. The one exception to that is Faneca; he is hell on wheels. The tackles are terrible. They don't even use Bruener the right way. What is it now?? Four years we have heard he is gonna get the ball?

Our kickers are super!

Our secondary isn't that bad either. I do disagree with you about Washington, I see him make a lot of mistakes.

The only good wide outs we have are Troy (he is still learning) and Hines. I think Plaxico is going to be a bust.

My worst case scenario is 4-12, best case is 8-8, and that would be a miracle.




Submitted by Tim from Albuquerque


No we are not going to the bowl this year but 8 or 9 wins would be an improvement. This team is in transition and it's going to take a while. At least most of us are not fooling ourselves like cowboy or raider fan and think we are going every year. I used to try to bet their fan's and would win , but they don't pay. This year the ol and dl need to produce or it doesn't matter how many studs you have; if you don't block and you don't tackle you don't win. I think MR Lombardi said that but he had Bart Starr[lucky him]. Well us Steeler fan's are getting together in a new place here in Albuquerque this season and I'll be there for every game and if worst comes to worst I'll cheer for my second favorite team- anyone that plays the cowgirls.




Submitted by Barry Fox


I talked to jim wexell of the post gazette about slash. I asked him did he think kordell would have a break out year or do he think he destined to become another Heath Shuler. His answer was leaning toward Shuler. If that's true, we are in for a losing season.




Submitted by Tom Bragg


Will somone please tell me where the hell Plaxico Burress is at ? The one player that the Steelers desperatly needed to be in training camp on time is no where to be found ! This to me is another crystal clear indicator that the Steeler front office is simply not committed to winning anymore ! Training camp is already a week old and the one player that is expected to come in and revive an almost dead passing attack is no where to be found . Does this make sense to anyone ? This organazation should have done WHATEVER THE HELL IT TOOK to see that this kid was signed and in camp on time . Money should not be an issue because when Joel Steed retired , that automaticly freed up over 3,000,000 in cap money ! I ask you again , Dan Rooney , where the hell is Plaxico Burress ? Rooney proves more and more everyday that is only concern in life is money . It sure as hell ain't about winning . The Steelers failure to get Burress signed and in camp on time has already severely jeprodized any chance Burress had of making an impact this year . Kevin Gilbride himself has stated , that it will normally take a player two years to get totally comfortable in his style of offense . That being said . Plaxico Burress doesnt stand a chance . Evidently , Dan Rooney never heard the old buisness cliche , you have to spend money to make money . Knowing Rooney , when that bit of advice was handed down , he probably was out posing for a statue or something ! The Steeler organazation says over and over that they are committed to winning . The failure to get your number one pick signed and be ready for the start of camp tells me thats just a great big load of grade A BULL$#!T !!

T. Bragg




Submitted by Jim Grant


Great call, Tim. Your preseason call couldn't be more accurate simply because this team in a word... SUCKS. I love the Steelers and always have. However, we are fooling ourselves if we as fans predict anymore than 6-10 or 7-9. I've been talking with other fans on line and they are thinking oh well be pretty good.....8-8 or 9-7. Well to me...that sucks too. This franchise has such a standard that I always feel anything less than 10-6 blows. I have 5 major reasons why this team will falter...

1. Kordell Stewart -Stewart sucks....I'm tired of excuses. I tried to convince myself the last 2+ seasons...it is the system..its the receivers. I'm done making excuses he is NOT an NFL starter. We could have kept many free agents if it wasn't for the huge dollars we laid out for this bum. And also I'm tired of Cowher coddling him like a three year old.
2. The Defensive Line -While somewhat revamped it is totally unproven. And filled with guys I've heard little about. This will translate into a double Whammy they won't be able to stop the run or get pressure on the passer.
3. The Offensive Line is suspect as well. This will continue to get Bettis and Huntley beat up.
4. The Secondary I think the secondary minus Lee Flowers is average at the absolute best. I don't see Chad Scott, Washington, or DeShea Townshend doing much. And Shields was not that impressive as a rookie. In the pass happy NFL of today this spells big trouble.
5. Schedule It is brutal. The Ravens, Jax and Tennessee are all better than the steelers. And the Steelers have struggled with Cincy lately. That is in the division alone. Plus tilts with Raiders, Washington come to mind. Off Hand I can't remember who else they play. But it wasn't good.

I'm in total accordance with you Tim. It doesn't make you less of a fan. Good fans expect and deserve good ball and have a right to complain when the team sucks. I'll still be watching every Sunday....with an Iron in one hand and probably a bottle of Tums in the other.




Submitted by Barry Fox


good news steeler fans the season has not started yet. we have to see where we are after the five preseason games. history shows that kordell plays well under the same offensive coach after two years. do you remember the the blitzing team of 95 and 96 well we have to get back to that. kirkland 20 pounds lighter that helps. what about bettis and huntley i would still like to see them in the backfield together. maafala may become a good fullback. after all witman is no pro bowl fullback. remember people are still wondering about the offensive line. healthy dawson that is great now we just need those young guys to block too. i just can't see the steelers losing again this season. but there backs are against the wall.




Submitted by Jim Pantoni


I keep comming back, boy what an article, I love this web-site! I'll have to dig out some nice pictures I took from training camp a few years ago and send them to you!!

Keep up the good work!!
Jim P.




Submitted by Jonathan Pasterick


Well, Tim, for being the webmaster of the best Steelers site on the net, that was a pretty dour synopsis. That said, it's all pretty damn accurate as well.

In the past five years, the team has been downgraded at virtually every single position. When we pick up part-time nose guards from the Bungles to replace All-Pro nose guards, things have gotten bad. And while I think the OL is better than last year (could it be worse?), it is at best a work in progress, and it is dependent primarily, in my mind, on two guys that haven't played a down of pro football yet: Marvel Smith and Kris Farris. Dawson should be solid, but everyone else on the line, given their track records, will be servicable at best. Smith and Farris are the only two guys that have the potential for real quality.

While the LB crew should be quite good this season, their effectiveness, with the exception of the outside LBs (i.e. Porter and Gildon), depends greatly on the quality of the D-line. In their 3-4 zone defense, the majority of big plays from inside linebackers are based on holes created by the down lineman. Is it any coincidence that Steed made All-Pro with virtually no sacks and few tackles? It had nothing to do with his own stats, but rather the stats he created for others (most notably, Chad Brown). He and Roye created pass rush lanes you could drive a Mack truck through. Don't expect the same from Von Oelhoffen and Sullivan. Those guys couldn't catch on with average teams.

And then, of course, there is the QB situation. I have always rooted like hell for Kordell to succeed. He is a stand up individual and I like the guy. That said, Kordell has shown me nothing in the past two years to suggest he can be a QB in this league. Furthermore, Kordell appears to be far too casual regarding his progression as a QB. He does not appear to realize that players do not have unlimited careers and you can't just chalk up entire seasons to the learning process and laugh them off. Mike Tomczak, who by all accounts has been nothing better than average at QB at any time in his career, dusted Kordell statistically when he replaced him last year, so I have a hard time believing it was just bad receivers, bad line, etc. I believe that if Bill Cowher is fair, which at this point in his career and considering his position with the team he has no reason not to be, Kent Graham will be the starting QB sonner rather than later.

I think that fans will have a much more fun time this season if they look at it as a rebuilding year, which it is. So much of the pain that Steelers fans have experienced these past two years, and so much of the reason that certain fans have gone out of their heads from frustration to do things like pour beer on Kordell or spread rumors about Bill Cowher's personal life, has been because they have expected so much out of this team, probably too much. If we view the Steelers as underdogs, and rather than take any win for granted, appreciate all wins, we can have a good time. Losing won't get me that angry. The only thing that will piss me off is if they don't play every game as hard as they can.

Point blank, the Steelers will always be my favorite team in all of professional sports. I am proud, living down here near Baltimore, that Ravens fans get so angry that Steelers fans inundate their stadium every year. The 'Burgh is not a major media town, so the only explanation is an ultra-loyal fan base. They don't come and go based on how good the team is. Plus, living down here near Baltimore (i.e. Ray Lewis-ville), I'm also proud that Steelers aren't on the police blotter every night. When the Steelers are on national TV, I'll be in my living room pacing like an expectant father watching them play. When they're not, I'll be at one of the many local Steelers fan clubs, Shooters in Annapolis, cheering along with a packed bar of Steelers fans. For me, being a Steelers fan is not a choice, so I might as well make the best of it. Hope all is well with the family.

Jonathan Pasterick




Submitted by Tom Bragg


This upcoming season will be the Steelers final season playing in historic Three Rivers Stadium . Ironically . it will be Kordell Stewerts final season as a Pittsburgh Steeler . After two consecutive years of literally the worst quarterback play in recent memory , the Steelers and Stewert will part company before the 2001 season starts . With training camp only a week away , it is incomrehensible that the Steelers could bring Stewert back in this season as the incumbent starter . Stewert is not a starting QB in this league and chances are he never will be . It is a certainty , that before the 2000 season is half over , Kent Graham will be the teams starter and Stewert will be on the sidelines . Certain physical and mental skills are required to play QB in the NFL and Kordell Stewert simply does not posess them . While Stewert has much athleticism , he does not have the accuracy or the touch in his passes to make it in the NFL . Finally , what litte confidence that Stewert had is now in shreds . Not only his confidence , but the teams confidence in him . Your teammates must believe in you and then believe that they can win with you as well . To a man , there are no players on this current Steelers roster that believe they can win with Kordell Stewert as their starter . To me , it would have been much simpler to part company with Stewert in the offseason and start 2000 with a clean slate . Yes a big contract would have to be eaten by the organazation but it should have been done regardless . Finally , look for Troy Edwards and Plaxico Burress to have big seasons in 2000 . However , the passes they catch will not be thrown by Kordell Stewert .

T. Bragg



Back to Top


---
Back to McMillen & Wife's