Congrats, Swannie!
We'll see 'ya in Canton on Aug. 4th!
---
"Lynn Swann was an idol. It would amaze me how he could fly through the air and make those catches. I'll never forget the one versus Dallas. It was the greatest catch I've ever seen."

-- 49ers wide receiver Jerry Rice --
---
Click on the thumbnail for larger image.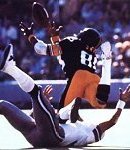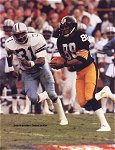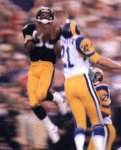 More images contained on thumbnail pages below.
---
Full Name: Lynn Curtis Swann
Birthdate: March 7, 1952
Birthplace: Alcoa, Tennessee
How Aquired: Draft (1st, 1974)
College: Southern California
Height: 6'0"
Weight: 180 lbs.
NFL Experience: 9 years (all with Steelers)
Retired: 1982 (Pittsburgh Steelers)
Hall of Fame Induction: A perenial finalist (and a top 6 finalist for 2 of the last 3 years), Swannie should have been inducted YEARS ago!
Lynn Swann DESERVES to be in Canton

"I have a hard time putting 19 Steelers in the Hall of Fame,"
-- Peter King, misguided HOF Voter

Lynn Swann is an immortal. He possessed so many intangibles... singular abilities which no other receiver before or since has demonstrated. Swannie was the greatest big-game receiver of all time, hands down. He defined the position for a generation of players and fans. Yet, he is being excluded from the Hall of Fame by a misguided, stats-driven voting panel.

The Hall of Fame isn't just about "how many," it's about "HOW." It's the stage on which the player performed, his impact on the game, the style with which he played the game, and the legacy he left behind. Swann's induction into his rightful place in Canton is long overdue.

CLICK HERE for more of my heated views on this exhasperating situation, and don't miss the extensive FAN COMMENTS section.
You Want Stats? We've Got Stats!

Below, you'll find stats from each and every regular season & post season game of Lynn's career from '74-'79 (thanks, Sheldon McGruder & Rick Strawsburg!), as well as his career numbers. We need your help, my bruthas! We're in need of Swann's receiving statistics from each individual game of the '80 & '82 seasons.

The 30 Greatest Steelers of All Time

Click here to find out who tops this list, as well as the answers to burning questions such as: Who was better... Swann or Stallworth? Who has been the greatest player during the '90s? Who was the most important player on Steel Curtain defense of the '70s?