Mr. Sunshine Ponders
the 2001 Schedule
Article by Tom Hayes (7/3/01)
Graphics & Layout by McMillen & Wife

Having already waxed poetic about our division foes, I thought I'd fill in the blanks regarding the other six teams we'll play this season (the ones that we KNOW about, anyway - heh heh heh). As you can see for yourselves on the front page of this very fine web site, we've got three early season road games against the Bills, Chiefs and Bucs (weeks 4,6 & 7) and three late season home contests against the Vikes, Jets and Lions (weeks 13 14 & 16). A few general comments before I slog through team by team thing: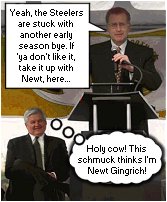 - Sure glad we get another early season bye. Thanks Mr. Tagliabue. The Steelers will really be looking for a break after playing that grueling two game opening stretch.

- Chiefs at Arrowhead again? This is totally unfair - and confusing. Our guys have played that venue so often they think KC is in our Division. - We get preseason peeks at three of these teams - the Vikings, the Lions and the Bills. Kinda cool.

In week 4, the Steelers shuffle off to Buffalo (8-8 in 2000) following their week 3 bye. Meanwhile, the Bills will have just completed a week 3 road game at Indy and might be looking forward to their week 5 contest vs. the Jets. Can't complain about the timing. Speaking of which, this team will likely still be adjusting to new head coach Greg Williams, the West Coast offense, a switch to a 4-3 defense and life without a host of free agents and cap casualties including DE Marcellus Wiley, QB Doug Flutie, NT Ted Washington, LB Sam Rogers, RB Antowain Smith, P Chris Mohr, starting RT Marcus Spriggs and OL Joe Panos. On the flip side, the Bills main free agent gain so far is pass catching RB Larry Centers. Others? Well, Tom Donahoe has brought in ex-Steelers Kris Farris, Lance Brown and Pete Gonzales as well as Bengal cast-off OL Craig Heimburger. I don't know about you, but I have to call this a net loss. Top three draftees CB Nate Clements, DE Aaron Schobel and RB Travis Henry might make some impact and the team's offense could put up some points later in the year, but these guys look vulnerable to me.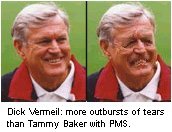 Two weeks later, after a home contest vs. the Bungles, our guys pack their bags for KC where the Chiefs (7-9 in 2000) will be returning after playing the previous week in Denver. Once again, timing could be worse. And this is also a team with new coaches (starting at the top - Dick Vermeil) and new philosophies on both sides of the ball. When last we saw Dick, he was bawling his eyes out over having won the Superbowl with a team built on pure speed. He wants to do the same thing again and has some pieces, but probably not enough. Maybe not even enough to stay afloat in his own division. Like last year, KC will throw a lot mainly 'cause they can't figure out how - or who - to run. This time Trent Green will pull the trigger, but the only new receivers of note to unburden Tony Gonzales and Derrick Alexander will be Ram transfer Tony Horne and former Raven RB Priest Holmes, who is - for those of you who haven't been paying attention - NO Marshall Faulk. On the defensive side, coordinator Greg Robinson, who presided over some really soft play in Denver last year, takes the reigns of a squad that was already weak against the run before losing Chester McGlockton. The other free agency comings and goings smack of treading water and the team didn't have a pick in the draft 'til the third round. You figure it out.

The very next week, the Steelers are on the road again - this time to Tampa - and begin a particularly nasty three game stretch (the next two being vs. the Titans and Ravens). But first thing's first. This Bucs team (10-6 in 2000) is tough and has Superbowl aspirations. After failing the past two seasons primarily for lack of a passing offense (Hmm, where have I heard that before?) and lack of effective long undies, the Bucs believe that the addition of Brad Johnson will enable them to get Keyshawn the damn ball and get the team over the hump. Fact is, they have to believe that because aside from adding BJ, they are essentially standing pat - unless you want to be premature and count the changes at DE, where Simeon Rice comes aboard as Chidi Ahanotu leaves, as major improvement. The Bucs lost a couple other guys, but feel they've already groomed replacements. And unless first round pick LOT Kenyatta Walker comes on very fast, the Steelers will likely encounter new Buc draftees only during special teams skirmishes. BTW - It's not by accident that these two teams sport some similarities. Ex-Steeler Tony Dungy is said to use our great seventies teams as models for his. So the game might well come down to which team spiffs up it's passing attack better. With Johnson & Johnson lining up for the Bucs and the contest being on their turf, on paper at least this may be their game. But then Mr. Alstott could get careless with the football and... who knows?

Last Year, the Minnesota Vikings finished 11-5 and were cruising in the playoff fast lane when they blew a tire in New York during the NFC Championship. By the looks of the team this year, they must have stopped in a bad part of town because they're missing a lot of parts. Ya know, this defense sucked BEFORE DL John Randle, DT Tony Williams and LB Dwayne Rudd left town. The addition to offset all this? Lance Johnstone and some draft choices who are - even on this unit - long shots to reach the field much this year. But the real damage was done to the offense when Robert Smith retired. Other guys left too - including OT Todd Steussie, WR Matthew Hatchette and backup QB Bubby Brister - but it's the loss of Smith that will hurt the most. The Vikes drafted speedster RB Michael Bennett in the first round and will give him every opportunity to fill the void. Like many Viking offensive skill players, he's got homerun talent but he's also very green and, as a result, is likely to cause the offense to sputter on occasion. That Jake Reed is back and the team added TE Byron Chamberlain is good news for 3rd year QB Duante Culpepper 'cause he'll have to carry more of the load this season. It'll be interesting to see if, by week 13 when they come to Heinz Field, these guys still have a legitimate shot at the NFC Central crown.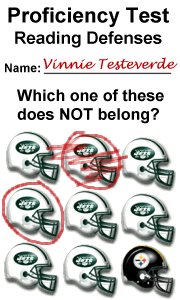 The following week, Vinny and the Jets (9-7 in 2000) come to town. Here's yet another team with new coaches (Head Coach Herman Edwards, OC Paul Hackett, DC Ted Cottrell) and new schemes to implement (West Coast offense and 4-3 defense). Can we take advantage of that? Well, this late in the season you have to figure that most of the major gaffs will have been eliminated except perhaps for the most important: Can Vinny Testaverde, who when given a seven step drop to think about it often chooses to connect with opposing defensive backs, make better decisions in less time? Like many teams, including our own, the Jets hope that the supporting cast will help and they've got a good one. In addition to RBs Curtis Martin and Richie Anderson and WR Wayne Chrebet, they'll field first rounder Santana Moss and ex-Viking #3 WR Matthew Hatchette as targets. The loss of Dedric Ward, the only offensive loss of any consequence, was rendered moot by the addition of Moss. On defense, more familiar names have departed - especially LBs Bryan Cox, Roman Phifer and Dwayne Gordon - but this is more about clearing dead wood and switching schemes than serious damage. Adding Damien Robinson to the safety mix is of value mainly because he knows Cottrell's system. Anyway, bottom line? As Vinny goes, so go the Jets. OK by me.

In week 16, the Steelers come home from perhaps a season defining game in Baltimore to host the Detroit Coin Toss Lions (9-7 in 2000), who will be travelling after playing at home vs. the Vikings. Hey, here's something unique: the Lions have a new coaching staff and are installing the West Coast offense! Marty Mornhinweg has some work to do, starting with the continuing shuffle of the offensive line. Jeff Hartings is now a Steeler and the team has also parted company with Ray Roberts and Mike Compton. Hartings will be replaced by Brendan Stai(!) and the draft yielded OT Jeff Backus and C Dominic Raiola in the first two rounds, but too much youth and inexperience could be problematic. The skill positions (RB Stewart, WRs Morton, Crowell and Moore, TE Sloan) remain the same. Additions are role players RB Amp Lee and TE Pete Mitchell. In what is by now a repeating theme, the success of this group will rest on the shoulders, and in the head, of the QB. Last year, Charlie Batch had accuracy problems stemming from his recovery from a broken leg. Should that continue this year under the new precision scheme, this offense will sputter. On defense the Lions continued to pour talent into the line with the addition of DT Shaun Rogers in the 2nd round. On the corners, they add ex-Ram Todd Lyght and welcome back Robert Bailey from his one year stint in Baltimore because of the health uncertainty of talented starters Bryant Westbrook and Terry Fair. Safety and linebacker are said to be problem areas due to lack of speed. On the whole, this is another team with many "ifs".

So what about the Steelers chances? Of these six teams, four have new head coaches and new systems to absorb. There has been significant player turnover on several of these teams as well. In other words, just as it is within our Division, opportunity might be knocking. All of a sudden, we're a team with continuity on our side. And maybe the late season weather in Pittsburgh won't be too kind to the dome-boys of the NFC Central. Setting any new injuries aside, I don't see why the Steelers can't take four of these. In fact, I'd say they OUGHT to take at least four of these. Add four against Ohio and one each from Jax and the Titans and you've got a 10-6 season without even having to challenge the Ravens - and I'm not saying we can't - or otherwise play over your head. Looks pretty good from here. Here's hoping the view improves as we approach the season.





Fan Comments & Responses


The following articles are listed in the order they were received (with the most recent entries at the top). This isn't a "guestbook" format... I read and manually insert every message, so you may not see your submission show up immediately. Thanks a million for your comments, people!

<! ====== FAN SECTION START ========>

Submitted by Coming Soon!


We'll post your comments when you send 'em!

<! ====== FAN SECTION END ========>




---
Back to McMillen & Wife's