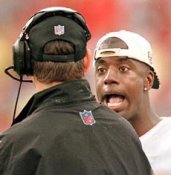 Postmortem Exam
Following a bitterly disappointing '98 season, Steelers fans speak out about where we've been, where we are, and where we're going.
---
The following articles are listed in the order they were received (with the most recent entries at the top). This isn't a "guestbook" format... I read and manually insert every message, so you may not see your submission show up immediately. Thanks a million for your comments, people!


---



Submitted by Michael Aubrecht
GET REAL!


Many Steeler and hardcore sports fans, like myself, want to see a team of players that work together, win together and stay together. The Dynasties of yesterday are gone and todayís NFL does not promote loyalty among teams.

History has shown us that "Great Teams" (in any sport) are comprised of steady rosters with a core of players working and growing together to win a championship. Players today change jerseys like I change underwear and fans are left wondering who will return next season. Unfortunately, many of these players who do achieve success are often high market items and are known to leave their winning team for a losing team with a big bank account.

Back in the day, a teams identity was based on its players and the city they played in. Today, a teamís identity is based on its owner's wallet. Pittsburgh has lucked out in that area by maintaining a family owned and native coached organization. (Just pray the Rooney's keep havin kids and Bill Cowher tries to break Joe Paterno's longevity record.)

However, the roster has continued to dramatically change (like the rest of the NFL) and Pittsburgh may be headed for an identity crises as well. As a die-hard fan, I hope that the players and owners look to the Past for success in their Future.

Michael Aubrecht The Unofficial Pittsburgh Steelers Online Fanclub


---



Submitted by StylinGM@aol.com
GET REAL!


I just wanted to say that even though the Steelers fininshed 7-9 this season, I still feel very fortunate to have the head coach that we have. It's almost like feeling as if we are always in the hunt as long as he is on the sideline. I feel that if anybody can rectify the situation, it is Bill Cowher. I believe in him, and I think he will not settle for another losing season. I love his powerful image he carries to the team, and enjoy it when he gets that "you better get out there and play good football" look. Bill is the man, and with a new offensive coordinator (one that likes the idea of Kordell running), I think we will be in good shape. Take care.

P.S. I am actually one Steeler fan who did like Neil O'Donnell. One must remember: we were 3-4 during that Super Bowl season. When Neil came back from injury, we went on to win every game except the last against Green Bay (which was due to Thigpen's lousy drop). This alone speaks highly of him. Not to mention we averaged more passing yards that season then Green Bay did when they went to the Super Bowl--->who would guess it, right!

Peace.


---



Submitted by SGMJAY@aol.com
GET REAL!


I JUST SPENT THE LAST HOUR READING ALL THIS B/S. ALL OF THE REAL FANS NEED TO STEP UP AND PAY TOP DOLLAR FOR THIER PSLS. START FINANCING THE TEAM YOU WANT TO HAVE. WHILE YOU'RE AT IT, CALL THE ROONEYS TO HAVE THEM RAISE TICKET PRICES EVEN MORE. THE ECONOMY IS GOOD, SO WE CAN AFFORD MORE THAN $53 FOR A SEAT. GET REAL.


---



Submitted by Thomas Bragg
FIRST STEP TAKEN IN REBUILDING OFFENSE


With the resignation of Ray Sherman, the steelers have taken a good first step towards rebuilding their struggling offense. I am not a Ray Sherman basher, but I honestly don't feel that he was the right man to lead the Steelers' offense. It was extremely obvious to everyone involved that Sherman never had a clear understanding of the system. It is also unfair to place all of the Steelers offensive problems on Sherman, because regardless of who is calling the plays, the players still MUST EXECUTE!! There is no way they can execute when lineman can't hold their blocks or wide-open receivers are dropping catchable passes! Those things can't be blamed on the coordinator. The Steelers have the people in-house to do the job of offensive coordinator; people such as DICK HOAK OR MIKE MULARKEY. Whether or not the Steelers go this route remains to be seen. If not, another name that comes to mind is LINDY INFANTE.

A new coordinator is not going to solve all the problems because the talent must be UPGRADED! First and foremost the steelers MUST get help at the receiver position. The current group of receivers on the is AVERAGE (BARELY) AT BEST! One player that the team must be pulling its hair out over is Charles Johnson. When this kid was drafted, he was supposed to be THE MAN for years to come, and the fact is, he's not even came close to living up to his billing! He also was supposed to be THE MAN to fill the shoes of the departed Yancy Thigpen, and once again he didn,t come close! An infusion of speedy young blood in the receiving corps and a new offensive coordinator will go a long way in getting the steelers offense back to where it should be!

Thomas D. Bragg


---



Submitted by Holly Manley
PLAGUED BY QB MISTAKES


Blame Sherman. Well I guess all of the Dump on Sherman addicts are happy with his resignation. Then why are the stats pretty much the same as last year?

It's time for the Steelers to pick up a QB that has savy, and it ain't Kordell.

As far as Cowher goes, the man has to learn to admit that he has made mistakes, and Rooney and his staff have to stop thinking that someone else can always be picked up. What are we becoming the Raiders? God forbid. Picking up players along with way for a quick fix. It doesn't work!!!

Mike Quinn should have been the starter. Injured granted this season, coming off a VERY successful season with the Reinfire and waived. And what did Chan Gailey do? Pick him up quickly.

The Steelers have been plagued with QB mistakes since Bradshaw. I still believe that they can come back, but wonder what it will take. When you look at the players that have been let go in the last 3 years because of salary caps, etc. It's a damn shame.


---



Submitted by George Allen
COMMITMENT


Hello! I found your site by accident. I'm a transplanted Pittsburgher now living in Texas. To make this short and sweet, I think Rooney is the problem. He keeps letting the best players and coaches go. What does he think? Cowher cannot keep putting a quality product on the field when he has nothing to work with. I suspect as long as Rooney keeps making money (via television, sellout games, Steeler gear, etc, etc) and by keeping his payrolls down, he reaps the profits. I'm tired of seeing top players and coaches go to other teams just because he doesn't want to ante up. The Steelers will become a second rate team if this trend doesn't change. If Rooney would only realize that by keeping the a core of top players together he would have a championship team year after year, thus profits would even improve even more than what they are now. I hope the Steelers have a good draft (read quarterback) because kordell is NOT the man. Get a QB, get some new linemen, and for God's sake, get a secondary. We haven't had good secondary since the last Superbowl the Steelers played. I don't know what's being said in "the Burg," but I hope people are putting pressure on Rooney to keep a team together for a few years.

Your site is "OUTSTANDING!" Got it bookmarked... will become a regular!!

Always a PITTSBURGHER!!!
GEORGE


---



Submitted by JESPO91@aol.com
NO PLANS TO CHANGE THE TATOOS


Being that I have been a die hard steeler fan ever since I knew what football was, this season was a disappointment, but it will not dampen my spirits. It would piss me off more if they changed their logo... then I would have to get the tattoos changed. Hang in ther Steeler fans we will be back... we will be back.


---



Submitted by Kelley Allison
LIKE BOB MARLEY SAID...


"Don't worry about a thing, 'cause every little thing is gonna be alright!"

That is my attitude toward the Steelers and their season (this year) because next year, they are going to rule!

I love the Steelers -- always have and always will. They have their fair share of problems just like any other football team. In my humble opinion, I believe it all boils down to how deep the "powers that be" pockets are regarding obtaining, and further, keeping great players. Was it Shakespeare or Rosemary Clooney who once said, "One quarterback does not a team make"? Words to live by my friends; words to live by.

Hang in there! They are still the Steelers -- the best damn football team on planet Earth! Black -n- Gold forever!

'Nuff said! ;-)

Kelley Allison


---



Submitted by MIKE C.
FREE AGENCY WILL ALWAYS HURT STEELERS


I've read the other fan comments and I finally decided to chime in with my two cents. I'm probably not as much of a Steeler's freak as the rest of your visitors, but I still love 'em. I started watching Steeler football in the 70's (Superbowl X was the first one I ever watched and I still contend the best one. Staubach getting intercepted in the end zone on the final play, how can anyone possibly think XIII was better?) I loved the Steelers when Cliff Stoudt and Mark Malone were QB. Malone to Brister is a bit fuzzy, though (the college years).

Anyway, every Sunday during football season right before the opening kickoff, I get the butterflies in my stomach as if I was on the field about to take that first hit of the day.

One thing I've learned in all my years of being a Pittsburgh fan (both Steelers and Pirates) is that Pittsburgh WILL NOT pay it's players a competitive salary. Everybody needs to accept the fact that free-agency will ALWAYS hurt the Steelers. Not just the last few years, but EVERY year. Apparently, the Pittsburgh organization has a great eye for talent. Not just any talent, though, more like unrecognized potential. Occassionally, you'll come up with a Woodson type, but for the most part, I look at the final roster on opening day and don't recognize most of the names. I say hurry up and sell those PSLs, build the new stadium, jack up the ticket prices like everyone else in the league and PAY SOME FREAKIN' PLAYERS. If I hear one more player come out and say, "I really love it in Pittsburgh and I'd like to finish my career here...Blah Blah Blah," I'm gonna F***ing shoot myself! They are all in it for the money and will never convince me otherwise. I know I would be willing to play a game for 250,000 a year! Of course, I get dizzy if I go up the stairs too fast, but I'm beginning to think some of the guys who made the team have that same problem. I can promise though that I wouldn't jump ship for 3 million a year. I don't know... call it petty jealously, but I seem to remember a team in '75 that wore the black 'n' gold that was very similar to a team in '78 that donned it as well. Free agency needs to be outed before all the smaller market teams are run out of the game. I understand all the band-wagon fans out there now... they don't jump from team to team just because a team is winning, it's because that is where their favorite player is playing this year (okay, I'm kidding, but look on the bright side... all those Vikings jackets that didn't sell for two decades came be put back on the store shelves about now so all the newly proclaimed "Vikings Fans" can display them proudly during the off-season. Then they can wear them on Mondays following winning weeks the following season).

Okay, I made my point. I hate Free-Agency, Bandwagon Fans, and NFL Officials who change the league's coin-toss rule even though no mistake was made. I also hate Ray Sherman's play calling. Could he be any more predictable? Here's his playbook

1st down -- Bettis Run around the left end, no gain or small loss.
2nd down-- Bettis Run around the right end, no gain or small loss.
3rd down-- Kordell stay in pocket and A) throw incompletion, B) throw interception, or C) get sacked.
4th down-- Punt and get the Defense out there so the Offense can be well rested.


Sorry for rambling, but I just gotta vent. Here's the bottom line...

1) FIRE RAY SHERMAN!!!!!!!
2) Lose Tom-SACK and sign a veteran starter who is on his way out (or already out ala Jim Kelly) to be the backup QB who can spend time with Kordell and teach him.
3) Sign Carl Pickens. I hear that he won't be in Cincy next year and that would be at least two games we could win. Plus he's dependable, has good speed, and he's tall. Would be great go-to guy.
4) Get a Pass Rush
5) Get a Secondary

I think you all know what I mean on those last two. I've watched too many "close" games this year and in years past because we couldn't stop 'em when we needed to. I don't understand this anti-Kordell sect that has recently been seen conducting voodoo rituals on your website. HEY PEOPLE HOW BOUT BUBBY BRISTER, or NEIL ODONNELL!!!????? Okay, then... shut up about it already.

Black and Blue er, um Gold Forever
MIKE C.


---



Submitted by Thomas D. Bragg
POTENTIAL DISASTER LOOMING


This coming off-season is one that could make or break the Steelers for years to come! If the Steelers can't re-sign at least some of their key free agents, they are in serious trouble. One in particular is Carnell Lake... if he leaves, their defense is in DIRE STRAITS. He is defintely one player that they cannot afford to lose, and if they do lose him, it will be like Rod Woodson , Chad Brown ,and Greg Lloyd all over again! I realize that Carnell is no spring chicken anymore, but this is a player that has done everything the Steelers organization has asked him to do! BOTTOM LINE... IF THE STEELERS HAVE EVEN HALF A BRAIN, THEY'LL RE-SIGN HIM!!!

On the offensive side of the ball, you have a guy by the name of Tim Lester, and while he doesn't have the star status of a Carnell Lake, he is just as important to the steelers running game as Lake is to the secondarY! Jerome Bettis is not the same player when Tim Lester is not blocking for him going all the way back to Bettis' days as a Ram. BOTTOM LINE... JEROME NEEDS HIM AND THE OFFENSE NEEDS HIM! RESIGN HIM! In my opinion, if the Steelers lose these players, 1999 will prove to be a whole lot longer season than 1998 was!!!

Thomas D. Bragg


---



Submitted by John San Felipe
WAKE UP & QUIT WITH THE EXCUSES


Hello,

Great web site. I'll tell you, I've been watching Steelers football for more than 20 years and this season was a pretty pathetic display. I'll still be a fan for life, but these people need to wake up. Kordell Stewart is not going to take you to the next level. He was exposed for what he is this year. This guy is having a worse year than Payton Manning, and everybody wants to blame Ray Sherman because he's trying to make Kordell into something he's not? Last time I looked Brad Johnson was well on his way to becoming a pretty good QB in Minnesota, sure he has great receivers, but he also knows how to read coverages better and thats not something you can teach, it has to be an automatic by your 4th or 5th year in the league. Why do you think Kordell has to move around so much? He needs all that extra time to make a decision that somebody like a Favre or a Elway makes instinctively. Yeah but he can scramble you say! Who cares? I would rather a QB who can stand in the pocket, make the right decision and BOOM! TD! Kordell has been living on his miracle play in college long enough. Didn't they have training camp and 5 preseason games to figure all of this out. Maybe he should have spent more time in the film room and less time making stupid commercials. It isn't like he wasn't throwing the big INT all of last year (17) if I'm not mistaken. This team is really lucky they aren't 4-11, they easily could have been.

The Steelers really need to take a serious look at getting a QB in the upcoming Draft. Hopefully Couch comes out, and Joe Germaine from Ohio State has been pretty consistent. I don't know alot about the kid from Brad's alma mater (Louisiana Tech) Tim Rattay. No more athletes at QB please. Lets not take 10 years to figure out what Randall Cunningham found out. McNown is also good. They also need to start making the shift from were going to pound it at you all DAMN DAY TO SHOW HOW TOUGH WE ARE with Jerome Bettis. If you want to impress somebody Bill Cowher, win a Superbowl. Notice all the recent Superbowl winners have something in common, A QUARTERBACK, Mr. Rooney if you want a Superbowl Win your going to have to spend some money on a QUALITY QUARTERBACK! This isn't 1976, get a passing game going. Lets try and have a little offensive balance, you know like the 75, & 78 Steelers did. (BRADSHAWS TWO BEST YEARS STATISTICALLY). The offensive line isn't as bad as everyone makes it out to be, when you have a QB who can't make decisions, he gets sacked more, and when you have to try and maintain your blocks for an extra second or two that wears people down. Lets also look at Jerome Bettis dropping a few pounds so his knees hold up and he may even hit the hole faster, wouldn't that be nice.

Defensively this team needs to switch back to a four three defensive and they need to make a decision on Jeremy Staat. Don't try to switch him to a defensive end! Put him in there next to Steed and you will completely shift running games to the outside where Emmons & Gildon (WHO GOT SHAFTED OUT OF THE PRO BOWL) can make the stop. They should look at trading Holmes (MUCH THE SAME WAY THEY TRADED NICKERSON) and their No 1 pick to move up for a QB, CB or a pass rushing DE. I'm still not sold on Dewayne Washington. There are some pretty good Corners coming out this year and they can get a decent corner even in round two if need be. Hopefully Chad Scott makes a full recovery. But if they can find a DE who can rush the passer, then they can let the corners cover receivers and avoid all of the weight mismatches they get into when they zone blitz. They are physically not able to take on 300 pound blockers or even 230 pond running backs who stay in to pick up the blitz. Lets face it the two best D-Lines in football are Green Bay's & Atlanta's with Miami's not far behind. All three of them are making the playoffs, and all of them have had to cope with injuries this season. Now if you want to blitz send Emmons & Gildon and drop Kirkland into pass coverage, he's the best linbacker in football in my opinion when it comes to pass coverage anyway. Now you have a real pass rush, like the Steelers did, and you have five in pass coverage.

I get so sick of hearing all the excuses that this team has been putting out. We won Superbowls missing All-Pro players on both sides of the ball. So I hope they start utilizing what they have, and quit making so many lame excuses for their downfall. We are probably going to lose Wolford and Strelcyzk due to retirement, and Lake and possibly Perry due to Free Agency. They should be able to free up enough money to get themselves the things they need. Losing Stewart probably wouldn't hurt their cause any either. Well, anyway, keep up the good work on the website and happy holidays. Any comments? Send them to PUBS1@AIRMAIL.NET.

Sincerely,
John

P.S. I'm here in the heart of Dallas Cowboy country, so you know how fun it has been to watch these guys go down the toilet.


---



Submitted by Nat
SO WHAT???


So they had a bad year... so what? If you think for one minute that they are done, you're crazy. The STEELERS STILL RULE!!!!! I would still rather be a STEELERS fan than root for any other team, because no matter which team they are, they still suck 'cause they ain't my STEELERS!!!!! And to all the band wagon fans: Hey, ATLANTA had a good year, maybe you can tear the STEELERS patch off your ball cap and sew on a "DIRTY BIRD"... or you can just play it safe and whip out that BRONCOS cap that says, "Hey, man, look at me! I' M a winner!" No, you're not... you just don't have enough spine to stick with one team.

MERRY CHRISTMAS TO ALL STEELER PLAYERS AND THEIR FAMILIES!!!!!!!!!!

STEELERS FOREVER, PAL!!!
NAT


---



Submitted by David W. Beers
WHAT TO DO...


It's been so long since I had some free time during the playoffs... maybe I'll fix the steps, or paint some rooms, or watch the Jets and Broncos in the AFC championship!!!!! Where'd I put that paint brush...

Well it's over, and from where I stand there are some things that are clear...

#1 Ray Sherman leaves the Vikes and comes to Steeltown... the Vikes are going to the big show, the Steelers are just hoping to show up on the scoreboard Monday night. Think about it,,, as much talent as the Vikes have had the last couple years and they don't show it till he's gone? Look at the last two seasons of the Vikes and their offensive numbers and compare it to the Steelers this year. Ray's gotta go.

#2 This is what I have been saying for two years... The STEELERS DO NOT have a backup QB, plain and simple. Mike Tomzack cannot cut it anymore. If we had a decent backup QB to step in when Stewart is off, there would be less pressure on him to carry the team. It's only his 2nd year as a starter... he's still the man.

#3 The Steelers need a Q.B. coach. The offensive line will jell... Stewart will grow up... and the STEELERS will be a kick ass team next year. I refuse to believe anything else.

One more note... if you think about it, the STEELERS have been playing football well into December for many years while most of these other teams have been at home watching. Playing 18-19 games a year has to be physically (not to mention mentally) draining to these guys. Lets give them a break they well deserve.

MERRY CHRISTMAS
DAVID W. BEERS
STEELERS FAN



---



Submitted by Kenny Campbell
WHAT TO DO WITH RAY SHERMAN :-)


I don't know what else to say but FIRE RAY SHERMAN! He has got to go. I can't stand seeing the Steelers go down like this. I don't understand his choice of play callS, and he certainly doesn't understand the talent he has on this team.

FIRE RAY SHERMAN! I don't think it's all Kordell's fault. He has shown us what he is capable of. He is our QB for the future and we need to stick by him because the team will only be as good as he is.

FIRE RAY SHERMAN! I don't think it's all Jerome's fault. The Bus can only run when they give him the ball and we know what happens when he gets rollin'.

FIRE RAY SHERMAN! It's not the defense's fault. They can stop the opposing team from scoring for only so long and then they start wearing down.

FIRE RAY SHERMAN! Free agency can't be blamed for everything. The Steelers lose guys every single stinking year and still find ways to win. I guess this is what happens when a team loses one too many good coaches. I'd say we all wish we had Chan back.

FIRE RAY SHERMAN! I hope Ray gets it together and proves many of us to be wrong. I'd much rather be wrong and have the Steelers win. I am not giving up on them. GO STEELERS!!!!!!


---



Submitted by J.T.
COWHER SHOULDN'T CODDLE STEWART


Stewart seems immature at times. I guess there could be a lot of reasons for this. The most likely one, however, would appear to be Cowher's fault. Cowher definitely has supported Kordell more than MOST NFL coaches do with their QBs. Their relationship seems a little bit too personal and not business-like enough.

Being an ex-athelete who successfully played football, I've seen examples of players who were "coddled" who didn't live up to expectations and developed negative attitudes towards those who had supported them most. Some of these players even went on to "star" with other teams or under other leadership, seeming to excel when placed under the adversity of being labeled a "problem athelete". The "bad boy" image gave them the drive to succeed that all the support in the world couldn't. Remember last year when Kordell had everything to prove as a QB in the NFL? He relished in showing that all his detractors were wrong. Maybe he feels more accepted in the NFL QB CLUB this year and therefore that drive to succeed is missing. Maybe.

I have to say one thing more though ... having played on the defensive side of the ball, you EITHER come into the league ALL grown up,or DO IT SOON because the game will bury you otherwise.

J.T.


---



Submitted by Bradd Everly
WE'LL BE OKAY


It is just soooo hard to take! I am losing faith in Kordell, but deep down, still bleieve he can get it done. Hopefully, he still gets some snaps at Jacksonville. I think Gonzalez should start, however... I'd like to see what he can do and Kordell needs to be shown who is the boss. He needs an attitude adjustment.

What they need to do.

1) Sherman must go. They need to find to an offensive coordinator who knows how to use what he has and mesh that with what he knows. I am tired of hearing that Sherman is running the same offense as last year. For that reason alone, he should be fired. They lost their go-to receiver, so you can't just run the same offense. You need to evaluate your talent and design your game plan by game and by match-ups, Sherman appeared to go through the motions. Kordell needs to be out of the pocket on the majority of plays and they need to take advantage of "Slash II"... Hines Ward is awesome and underused. They must sign a free agent receiver with SIZE and SPEED. The Bus is okay... line injuries and playing when your behind make it tough to run the ball. Bettis gets his yards burning the clock when the Steelers are in the game or winning. In most games this year, that was not the case. Face it, most years, teams knew we were going to run and still couldn't stop us. This year, they looked at us and said, "Well, they can't throw, so stop the run and they'll never score," and guess what we never did? It was WAY too easy to beat us... we were way too predictable. The last two years, yeah, they knew we would run, run, and run, but they also feared when Kordell would leave the pocket and respected the ability of Thigpen.

2) The defense is fine. They were just on the field way too much this year. Carnell needs to go back to safety and he'll be fine. I truly hope they still sign him. Darren Perry will be back and Washington will be a future Pro Bowl corner, mark my words. The linebackers are the best in the league and the line is fine. Carnell is not a corner and it showed. It is hard to get down on the defense. They always had way too much pressure on them and they were on the field way to long.

Win or lose, a Steeler fan for life! Got my DSS tuned in every Sunday! I hear you're a Buckeye fan, too! I lived in Columbus for a few years and my wife went to OSU for her Masters, so we make at least two treks out to see the BUCKS. This year, did it twice with the latest a blast of a weekend when we flew into Columbus and watched the BUCS beat michigan and then drove to Pittsburgh to see the Steelers win over the Jags... a truly great weekend.

GO STEELERS!


---



Submitted by Russell
A BLESSING IN DISGUISE


A thought I wanted to share with you. It seems to me that the Steelers have not had the talent to take them all the way for a few years. But because every year they ended up with a pretty good record, management seemed to overlook some of their weaknesses (you know the old saying... "Don't fix what's not broken"). Maybe this off-season, things will be different and they can finally address their obvious needs such as a dominant pass rusher and a wideout that can hold on to the ball. I guess what I'm saying is, maybe this year was a blessing in disguise!

Till next year
Russell In Y-town.


---



Submitted by Thomas Bragg
YOUNG TEAM WILL MATURE


This is the type of season that can cause a person to go bald real quick! Free agency has finally caught up with the steelers. We've lost one toO many kevin greenes, rod woodsons, chad browns and yancey thigpens. People can say what they want about yancey thigpen, but when an offense loses a player of that caliber, it is going to suffer (and the Steelers did). Two things to do in the off season: draft a receiver in the first round, and hire a quarterback coach for Kordell Stewart.

This might not solve all the problems, but it is a step in the right direction!

Thomas D. Bragg


---



Submitted by Greg "The Bus" USMC
GOOD RIDDANCE TO BANDWAGON FANS


They are like rats on a sinking ship! They are bailing on a team because of a bad year! Yes, I'm talking about the bandwagon fans that have been riding the Steeler train for the past several years. REAL Steelers fans are those of us who will be around even if they go 7 and 9... we are the faithful who buy the football package on DSS for no other reason than to watch our team play. Yes, we dread seeing them lose but still fly the black and gold colors and dare someone to take them down. We are the mighty! It doesn't take character to proclaim your love for a team when they are winning. I guess we will see more people wearing purple jerseys this off season! They probably were wearing black and gold last year. Good riddance to those who jump ship. In fact, let me give them a shove! I will be on board for the duration. Next year when we come back with a vengeance, I will be there to watch those who will try to board the gravy train once again. To "the Bus" and Company, we are there for all of you. The faithful do not cast blame (although we would like to see changes). To the people that jump ship, "Eat $#!T and die!" HA HA HA HA!!!!!!!

GO STEELERS!!!!!!!!!!!!!!!
GREGTHEBUS USMC


---



Submitted by Jak58L@aol.com
YOUNG TEAM WILL MATURE


A young team, lot's of injuries, a new O-coordinator, free agent losses, bad officials, and poor execution... all good reasons (not excuses) to explain the steelers had a bad season. Next season should be better. The young will grow, the coaches will adjust, and hopefully we can keep our key free agents. Maybe there will be instant replay, and execution will fall into place (don't forget one of the earlist draft picks in years). If expectations aren't so high, that may prove to be a big plus as well.

Stewart is not the reason for the bad season... I hope he starts in the last game.

GO STEELERS!!!!!!!!!!!!!!!!!!!!!!!!!!!!!!!


---



Submitted by Bill McCombs
KORDELL: A BIT TOO COCKY


Word here in the 'burgh is Rooney is taking a long, honest look at his employees. But, it was added, he is happy with Bill Cowher. Who else does that leave to obviously fry? Ray Sherman.

Kordell is a little too cocky for my taste right now since he's performing as poorly as the rest of the offense. I've been a Kordell backer all year, and still am, to a point. If he were playing better and saying what he's saying it would go over much better. He could at least say his play could be better. But to consistently say "It's no one player" is gettin' a little old. He could say "no one is playing to their potential right now, including me," even that would sound better.

With Stewart's comments after the game last night ("I'm not one to learn by sitting out... I learn by playing. That's not me."), it almost sounds to me he's daring Cowher to pull him. Let's see if his job is that stable to risk a comment like that. He said he's his own man, let's see if he is or not. He said he isn't afraid of what Cowher will think over his comments. Well, we'll see next week if he takes the field or not.

Of course, Mr. Rooney could be talking about Kordell, couldn't he?

Maybe next year Kordell and Sherman will both be gone. Maybe they'll even be on the same team elsewhere.

I've backed Kordell all year and I still hope he pulls up before going into the ground head first. I've also disliked Sherman all year.

But, the losing goes beyond both of these individuals. Even sure handed Mark Brunner is uncharacteristically dropping passes. No one is catching passes consistently. Both times that Tomczak has came in a receiver has caught a long pass, but after that they went flat again. This team just may not be very good, as Stan Savaran would say.

Here's looking forward to next year.


---



Submitted by Shawn M. Lucas
STATE OF THE STEELERS


Well, the season is a total wash. Has been for a while now, but fans like us, we hold on for the duration. It is now official. No playoffs, (hopefully) 8-8, third in the division. Quite a fall from 11-5, winning the division and coming "this close" to making the Super Bowl for the second time in four years. The whole season I've struggled with what went wrong. How could the team have fallen that far, that fast? Why have we been so inconsistent this year. Then I was watching SportsCenter as I often do, and they made the comparison between the Steelers fall from grace and the Chiefs equally dismal showing this year. The Schottenheimer-Cowher connection may have been made, but I don't remember.

In any case, some things began to stick out in my mind. Marty Schottenheimer and Bill Cowher have constantly been praised through the years for their control of the team. "Discipline," if you will. But this year, I'm thinking that both the Steelers and the Chiefs lack discipline. Think back to the first Chiefs-Broncos meeting, when Derrick Thomas got three personal fouls and was suspended for a game for his transgressions. Think that would have happened in past years?! Derrick is usually a stand-up player (because of Schottenheimer's usually rigid regime), but in that game he let it get to his head. I haven't seen any other Chiefs games this year, so that's my only example for them.

But the Steelers I have a few examples. It seemed that early in the season, and maybe even later (as I thankfully missed the last few Steelers games, my poor heart probably couldn't take the defeats) the Steelers defense (mostly the young guys) would celebrate a sack on first down, only to give up 15 yards the next play and a first down. Lack of discipline. Kordell Stewart blew up on Cowher on the sidelines after being pulled against the Bucs, even though he was having a terrible day. Granted, Tzak didn't really burn it up on the field either, but those are not the ways of a professional. Lack of discipline. And in the Cincy game, Jerome Bettis celebrated his touchdown that put the Steelers up 24-22. Now, the Bengals were 2-12, the Steelers are supposed to be one of the top teams in the NFL. When you are beating the Bengals by only 2 points, with over 10 minutes left in the game, I don't exactly think that is the time to be celebrating. Lack of discipline.

I can't really say as to why both Schottenheimer, and especially Cowher, lost control of their teams. Maybe it's that these teams have been tasting a high level of success for too long and the coaches have gotten soft because of it. Maybe, in the Steelers case, it's the turnover of coaches recently. The team lost Gailey this year to the Cowboys, who are showing a lot more discipline this year and consequently have regained their perch atop the NFC East. They also lost Dom Capers after Super Bowl XXX. The guy isn't much as a head coach, but he was a defensive genius that allowed us fans to dream of Super Bowl glory again and brought comparisons to the Steel Curtain of old. The defense didn't just hold opponents as they have this year, they destroyed their confidence early in the game, confused them throughout and drove a stake through their hearts in the fourth quarter. The fact that hasn't happened lately could also be construed as a lack of discipline. I'm not necessarily saying that Ray Sherman is a bad coach, but just look at the what the Vikings are doing this year without him compared to last year with him (true Randy Moss has a bit to do with this, but not all of it), and what the Steelers have done this year with him compared to last year without him. The Vikings were only 9-7 last year and averaged roughly 22 points a game. This year, the Vikings are 14-1, and haven't scored less than 24 points in any game this year. Conversely the Steelers of last year were 11-4 at this point in the season, Kordell Stewart had thrown 21 TDs, and run for another 10. This year, they are 7-8, Kordell has only 11 passing TDs vs. 16 ints, and 2 (count 'em!) rushing TDs. In addition, the Steelers are averaging a touchdown less a game this year than last 23 points/game (last year) vs. 17 points/game this year. Hell, over the last four games, the offense went something like 11 quarters+ without a touchdown. That is almost three goddamn games without scoring an offensive touchdown! That's just obscene. There's no excuse for that as far as I am concerned. I'll be the first to admit that sometimes statistics lie, but this time they are screaming loud and clear..."Ray Sherman has got to go!" As far as Haslett is concerned, he's not a bad coach at all (the defense has been the lone bright spot in a lot of games this year), I just feel that his defense is a little too vanilla for my tastes.

Of course, it could just all boil down to the fact that this is a young team. In the mass exodus of free agents in the last few years, there have been a few names that are players that have discipline and could help the coaches keep the younger guys in line. I just think that the younger guys have let the stardom go to their head. Kordell Stewart, after only one good (not great) season, has become the poster boy for everything from video games to hemorrhoid cream (I'm not sure about this, but I'm sure somewhere out there they have a commercial with the tag line "'Slash' at your hemorrhoids with Preparation H." The kid just wasn't ready for the superstardom yet. His head is in the clouds, and it has shown this year with his dismal performances on the field. Jerome Bettis has a few commercials too, and a snappy nickname to boot. "The Bus" has caught on like wildfire, and while he has earned his stardom more than Kordell has, his production has fallen off greatly now that he's all over the place. I don't want to imply that Bettis has let the stardom go to his head, because of the afformentioned offensive problems, since that could be a cause of his lack of production this year. Kordell Stewart has a huge head on his shoulders, his ego is bigger than the team sometimes, which was only inflated by his numerous commercial endorsements. But Bettis is a classy player and I don't want to knock him unwarranted. I haven't yet even mentioned the other guys who are going to be guaranteed a household name all over the country just because they put on a Steelers uniform. Because the Steelers are one of those instantly recognizable teams, the uniform bestows upon them star status. Because of the lack of discipline mentioned so many times, they think that they can dance after every sack despite the fact that they give up first down yardage the next play.

Jeez, this has gotten a little out of hand, hasn't it? Sorry, it's my day off and I really don't have anything else planned, so I hope you don't mind if I go on with it a little bit more. No matter how low the statistics get 8-8, 7-9, 17 points a game, anemic offense, defense sick of keeping the offense's butt out of the fire, I think the most telling sign that the Steelers have hit rock bottom is the fact that only Dermontti Dawson is going to Hawaii this year. Several members of the team were snubbed this year, the most glaring omission being Levon Kirkland who has blown up this season and played with a lot of heart despite the gradual decline in play of most of his teammates. Last year, he along with some of the Steelers' lesser players would've been on the team, because they still had the respect of the league. But the Pro Bowl has no pitty on a struggling team, and if you are a star on a struggling team, Hawaii just doesn't care anymore.

Oh, another note on Ray Sherman and his offense. He continually says that the offense is the same that the Steelers ran last year, but I don't think so. And if it is the same offense, I want to know which part of the playbook that he dug up the stinkers that he's been calling all season. 'Cuz he needs to send 'em back. Sorry, I realize that was a bit of a cheap shot, but it just came to me.

Now on to my proposed solutions to this terrible plague that is spreading throughout Steelersland. First of all, some heads need to roll. Cut players, fire coaches, anything to shake up the team a bit and show them that their jobs are not safe if this trend continues. Secondly, the team needs to take a different view towards free agency. Obviously patching up the holes isn't working anymore, if in fact it ever was. It was amazing to see that with every big name that left the team, the Steelers were still playing well. But, the smoke and mirrors trick isn't working anymore. Fact of the matter is, the Steelers do in fact need the big names more than they have been letting on. They may have gotten lucky a few times, but losing so many players has destroyed team chemistry over the years and it seems to have finally caught up with the team. The players have to be assured as well that their good play if good will be rewarded and if bad will be dealt with accordingly. Discipline has to be a number one priority. Fines, suspensions, whatever. Just do what needs to be done.

Well, I think I've wasted enough time and bytes for one email. I really hate this phrase, but living in New England for the last three years I've developed a bit of a tase for it:

"We'll get 'em next year!" or the ever popular variation "Wait'll next year!"

Keep the faith alive and of course, "GO STEELERS!"

Shawn


---



Submitted by AOD4LIFE@aol.com
GREG "JUST PLAIN NASTY" LLOYD


Tim, by now you have heard enough of my rantings, but I was really moved by your tribute to Greg Lloyd. I really miss his intensity. He was the best linebacker I ever saw wear the black and gold. Occasionally, I'll flip to a Carolina game and check him out. He was my favorite player... since he left, it's just not the same. I LOVE the STEELERS, but if I was a running back and saw him coming at me with his different face mask, huge biceps, and snarl... I'd throw the ball down and run away. He used to make a play that would break a team. Remember the int vs. the Bears in '95 or him crunching David Klingler to fumble? Levon is good, one of the best. Lloyd was a field presence that we miss. My favorite Lloyd memory was him almost attacking O'Dummell at halftime of the Browns game in '93. Neil hit Eric "I'm a big drug addict tight end" Green for the winning score. I LOVE THOSE STEELERS, WIN OR LOSE, BUT I STILL MISS "MR. INTIMDATION," GREG LLOYD! Carolina signed him for 1 year, $500,000, and Bill Cowher got a new bigger contract on the same day. But at what cost?


---



Submitted by Anthony Wright
CONDOLENCES FROM A CHARGERS FAN


Mr. McMillen,

Well, a tough season for you guys, huh? Believe me, as a Chargers fan, I know what you're going through! I just wanted to let you know that you represent what a true Steeler fan is all about. When a person's team has a season like this, the totally TRUE fans come out, not like some of these wussy SO-CALLED FANS that give up on their team in the lowest points. Being a Chargers fan, nobody has had to put up with as much disappointment as I have this year. But I will love my Chargers for the rest of my life, no matter what (I'm sure you will do the same with your Steelers). Anyway, just wanted to let you know that I admire people like you! What the sports world and NFL desperately need are TRUE fans like you and me!


---



Submitted by AOD4LIFE@aol.com
THE PESCRIPTION FOR STEELER REFORM


OK, we are all suffering. I've got this weird feeling like something is missing. It feels strange to not have the playoffs to look forward to. Who is to blame? Who should be canned?

Well, in this situation, it is too easy to play the blame game. Ray Sherman should serve well as this season's scapegoat. I never cared for his scheme, but it is not all his fault. It is a mixture of things... free- agency, a bad game plan, and I saw a head coach who was not playing to win. Now wait, Im very pro-Cowher, but to me it looked like he was playing to "not lose" instead of a killer instinct to go for the other teams jugular. How many games did we lose to rallies in the 4th quarter? Too many. An anemic offense did not help either (I'll scream if I see another field goal). The 1998 Steelers did not look "hungry" to me. We expected the playoffs.

Okay, enough dwelling. Leave it to me to try and find some positive points. One thing though (don't yell, Tim), but it would serve us better for the future if we lose this last game. Sacrifice now for the future. With a 7-9 record we would get a better draft slot... too many teams at 8-8. Who are we gonna draft? I fancy myself as a Steeler draft analyst. I have picked the draft for them correctly 5 out of 6 times (I thought Mike Allstoudt was a lock, but I have never even heard of Jamain Stephens at NC-AT). In my infinite wisdom, I think we need a offensive playmaker. Who? Well I like big recievers, but I think Peter Warrick (FSU) could help. He is used to a pro-style offense. Torry Holt, and David Boston could be the answer, but we need SPEED. A new offensive coordinator would also help and a QB coach.

Kordell Stewart is our man. Like it or not. When he is in the Pro Bowl next year, I'm gonna laugh at all doubters. I pray Cowher does not give up on him (ala Tampa Bay & Steve Young). We need to build an offense around Kordell, tailored to his skills. People, you know enough about football to know that Kordell is still young and next year we can tell more about his promise. I think he is gonna be a star for years to come.

What is with Carnell Lake? No excuses. He is getting burned too often. I know that is not his position, but come on! What is up? I saw the touchdown he scored, but he is getting toasted by faster recievers.

Joel Steed is having a solid season. The rest of the line is getting knocked around. They are still missing Brentson Buckner and Ray Seals, 2 good players. They need to play Jeremy Staat some.

The Linebacking core is still good. Levon Kirkland alone makes them good. Gildon has been a great surprise.

The Defense looks pretty solid, sign Lake and Perry though. Jerome Bettis has not been healthy all season and it shows. A solid Line would help too. Jamain Stepens is about to be called a bust by me. I know he is still a rookie, but Faneca has looked much better in less time.

I say Fire Sherman, wake Bill Cowher from his coccoon, draft a playmaker, get Kordell some help (an offensive coordinator and a QB coach), and spend some money, for God's sake!

What do you think?



Send Us YOUR Comments!





---
Back To Steelers Page



Main | Steelers | Game List | Sandy's Photo Album
Craig's Photo Album | Music Stuff | Links



E-mail us at:


mcmillenandwife@hotmail.com


---

Page created by McMillen and Wife, copyright 1998.