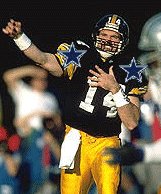 Neil O'Donnell (aka the greatest QB in Dallas history) won MVP honors in Super Bowl XXX by floating 2 picture perfect passes to Dallas CB Larry Brown.
We Will NEVER Forget!
---
Your three scatter-armed interceptions that cost us "One for the Thumb"... the refusal to accept any responsiblilty for the loss... the cheap shots at Pittsburgh when you left. These are the reasons we despise you, you duck & cover, big-game choking, Bradshaw wannabe bitch! Someday, we're gonna get revenge, Kneel. I can't wait to see Levon Kirkland make you soil those dainty little panties of yours. Paybacks are a bitch, you overpaid, under-producing, free-agent money-grubbing whore!

Jeez! That was maybe a little too brutal, eh? Naaaaaaah! :-) CLICK HERE to send us YOUR O'Donnell bashing!
---
CLICK HERE
for perhaps the greatest Neil O'Donnell Article ever penned! A MUST-read!
---
To date, the description of O'Donnell below has gotten the single biggest laugh outta me... thanks, Fleetwood & Julio (aka, Tommy Coleman), who referred to O'Donnell as:

"...the backstabber, forgotten Kennedy, New Jersey toilet-seat accident..."

God, Neil DOES look like he could be a Kennedy, doesn't he?