Send your postgame critiques, analysis, ranting and raving about the last game as well as your predictions, smak, & insults about our upcoming opponent. Whether your message is a simple, "These guys SUCK," or a detailed, in-depth analysis, tell us what you think.
---
Key Stats & Facts
• Stewart 7 of 22, 113 yards, 1 TD, 1 Int, 2 sacks: Horrible. I hate to blame a loss on any one player, but Stewart was simply pathetic. Kordell was 2 of 11 in the 2nd half, and although his 2 completions both came on the TD drive (the 2nd a 30-yard score to Bruener), Stewart's scatter-armed performance cost the Steelers a game they otherwise played well enough to win, seriously damaging their playoff hopes in the process. Kordell escaped this debacle with only 1 Int, but he could've easily had 4 picks if not for a penalty and a couple of easy drops. I don't mean to just pick on Kordell, because there are other factors, but where was his friggin' head? I think I've seen enough.
• ZERO TD's allowed by Steeler defense in last 5 games (and only one TD in last 6): Wow. The Steelers have now gone 20 consecutive quarters without allowing a TD. They continued their streak today in spite of horrible clock management by an inept Steeler offense that held the ball for only 20 minutes (the Titans had it for a whopping 40 minutes) and ran a paltry 44 plays (76 for the Titans) for only 10 first downs. If these guys hold Philly without a TD next week, they're heading into uncharted territory. Three cheers for the defense! OUTSTANDING!
• Titans commit 14 penalties for 115 yards: Tennessee inflicted almost as much damage to themselves as did the Steeler defense. A multitude of HUGE plays were overturned by bonehead penalties, and when you throw in a McNair Int (Porter) in the red zone and a missed Del Grecco chip shot FG, the Titans were fortunate to come away with a win.
• Mac & Wife's Game MVP: The Entire Defense! Since we're playing the blame game with our poll this week, I'd like to point out some heros on defense: Holmes 15 tackles (9 solo), Porter 1 HUGE Int in the red zone, Jason Gildon 1 potentially devastating sack late in 4th qtr, Lee Flowers 9 tackles & a key pass defensed in the end zone, Von Oelhoffen 6 tackles and outstanding clogging the middle. Defensively, this was a SUPERB team effort against a very formidable opponent under extremely adverse conditions... I just can't say enough about these guys.
• Jerome Bettis 13 carries, Eddie George 34 carries: You don't have to look much further than this to know who won the game, do 'ya? Pittsburgh's appauling lack of offense allowed the Titans to stick with the run in spite of George's paltry 2.9 average. Man, if we only had an offense...

---
We Love Them... We Love Them Not...
Steelers Invoke Both Pride and Embarrassment
Article by McMillen & Wife

So Close...


In spite of a fiery performance by their defense, the Steelers fell to the 8-1 Titans.

Certainly, this is familiar territory for Steelers fans. We're proud of the defense and ashamed of the offense. On the one hand, it's hard to fight off the feeling of disgust with Gilbride, Kordell, and the majority of the offense. I wanna rant and rave. I wanna point fingers. I wanna cast blame. Yet at the same time, there are so many players and coaches on defense that I wanna pat on the back. Porter. Kirkland. Holmes. Gildon. Washington. Flowers. Von Oelhoffen. Tim Lewis. You name it.

It's the classic Pittsburgh love/hate situation. ZERO touchdowns allowed by the defense in the last 5 games: We love them! 10 offensive first downs and only 20 minutes T.O.P vs Tennessee: We love them not. A defense that allowed only 9 points in spite of numerous scoring opportunities for the Titans: We love them! An offense that goes 7 of 22 passing and gains a pathetic 167 total yards: We love them not. I could go on with this endlessly, I guess... but ultimately, true fans always end with "we love 'em."

It is strange, though, how the Steelers always seem to be this way. Even during the early stages of the glory days of the '70's and for the bulk of the renaissance of the '90s, the disparity between offense and defense was glaring. A dominating defense carried the load while fans prayed for the offense to do just enough to not lose. It's an age-old enigmatic tradition in Pittsburgh. Who knows why? Must be something in the water...

Whatever the cause, the stark contrast depending on which side of the ball the Steelers were on was remarkable. Pittsburgh's defense was intense, full of piss and vinegar, constantly jawing and trash talking and... bless their souls... intimidating the Titan offense. They somehow managed to maintain that menacing intensity throughout the game even while, thanks to Pittburgh's laughable offensive showing, they spent 20 more exhausting minutes on the field than their Titan counterparts. In the end, those extra minutes finally took their toll, but it doesn't diminish what these guys have been able to accomplish. This defense kept the Steelers in a game in which they had been badly outplayed by a superior opponent. You can say they let down in the end, but there's no shame in that... so have 7 of the 8 other teams Tennessee has faced this season. Had Kordell and company been able to generate even the most meager offensive production, the Steelers would've won this game. "We love 'em."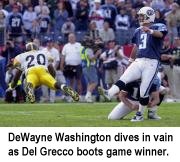 As for our offense (specifically the passing game), there's so much blame to go around that I don't even know where to begin. Kordell was attrocious. Gilbride's game plan (as if) was a joke. Our two glamor boy #1 draft picks combined for a grand total of one catch... and one drop (Troy Edwards is a disgrace). The Titans lost more yardage (115) to penalties than the Steelers' net passing total (93 yards) for the entire game. Stewart was 2 of 11 in the 2nd half, and while he escaped the game with only one interception, the Titans could have easily snagged 4 of 'em if not for a penalty and a couple of drops. Our leading receiver caught... get this... ONE pass. "We love 'em not."

It's hard to be too critical of the running game, considering Dawson left midway through the 2nd with hamstring problems, not to mention the fact the the Titans had eight men in the box all day long. Bettis' lack of production was more a reflection of a non-existant passing game than a poor rushing attack.

So where do we go from here? What's it all mean? Well, the unfortunate truth seems to be that we're destined to be a .500 team at best. On the one hand, the Steelers have made massive strides defensively, and from a leadership perspective, Pittsburgh is vastly superior to last year. But the cold hard facts tell me that no matter how well the defense plays, no matter how well Cowher coaches, and no matter how well Josh Miller punts... until we have a legitimate QB who can deliver the ball accurately and receivers (other than Hines Ward) who can catch it consistantly, we're doomed to mediocrity. A purely one-dimensional team simply cannot succeed in this league.

Be that as it may, when push comes to shove, one thing remains true about Steelers fans and their team... "we love 'em."

On that note, I'm going to bed. Until next week, my bruthas.

Tim McMillen
Webmaster, McMillen & Wife

P.S.--GO Bush/Cheney!!!
Fan Smak & Analysis
The following articles are listed in the order they were received (with the most recent entries at the top). This isn't a "guestbook" format... I read and manually insert every message, so you may not see your submission show up immediately. Thanks a million for your comments, people!
Submitted by Bryan


It looked to me like Kordell Stewart was throwing passes to the blue jerseys more than the white ones. I thought the Titans dropped as many passes from Kordell as did our own guys. The offense needs some major fixing. Now the defense is another story. I think they showed how good they were on Sunday. It seemed they tightened up when they needed to, not giving up a TD again. Incredible!!!




Submitted by Michael Whalen


'Ya know, it COULD be worse...

MikeBrownSucks.com




Submitted by Michael Whalen


It is inconceivable how the Steelers coaching staff can watch Steve McNair make plays out of the pocket, with designed rollouts and bootlegs, and not think gee, why couldn't Kordell do that too? Gilbride needs to beg, borrow, or steel (we are the steelers after all) whole chapters from the Titan's playbook.




Submitted by Nat LaBorde


I was wondering if whoever is in charge of seeking out and drafting defensive talent for the Steelers has any ideas for the offense?The difference between the two are night and day.I feel rotten for the defense,what more could you ask of them?I just think it's such a damn shame that the defense gets ZERO help from Kordell ,those two #1 draft picks wideouts are a joke!Troy ,Go home,Plaxico follow..PLEASE!!!!

Mark Bruener needs to get the ball more,I've always thought lots of his talent has been wasted,using him just to block,attention to the rest of the NFL,if you want a tight end with Pro Bowl talent for cheap call Pittsburgh,on several teams,Mark would be tearing it up,and as usual ,if you don't find anything for your offensive needs,we also have plenty of awesome defensive players,but it's gonna cost ya,a 6th or 7th round pick!!!

It's just the same year in and year out with the Steelers,Great defense ,no offense.

Bettis,I feel for you too man,can't anyone else help the Bus out over there?Oh,I was also wondering,does Jerome ever wonder if he should have gone to Washington and does Kordell ever feel bad about cashing his paycheck?

Titans still SUCK!!!!!!!!!! GO STEELERS!!!!!!!!
Nat

P.S. Hi Tommy(don't shoot!!!)LOL!!




Submitted by Grandpa Zig Zag


Oh well, S.O.S. { same old shi-} Ok, finally we all know that Kordell ain't the man , so what do we do? We still got a hell of a Bus, I can't figure why we don't use him. Damn!, What? 13 or 14 carries, Jeez. I wonder what the Bus was thinking when they kept calling plays to everyone else but him.

I still wonder if our rookies couldn't do at least as good a job.

I know Troy Edwards isn't doing anything , but he probably has no idea where or what kind of demeanor the ball will have when the soon to be Hall of Famer Kordell tosses it .

I gotta go, I ain't helping things here!

Z.Z.




Submitted by Jon Pasterick


I think Kevin Gilbride was mostly to blame for this loss. Everyone will blame Kordell, and he certainly did not have a great game, but let's face it: everyone knows, including Gilbride, that Kordell is not a great quarterback. That said, the playcalling must be tailored to take this into account. Put simply, it was not.

The perfect contrast was the Titans. My thought at the end of the game was this: the Titans won because they played Steelers football better than the Steelers did. The Titans committed to the run for the entire game, and only passed off the run. I still do not believe that Steve McNair is that great of a QB. He almost never throws downfield (that one bomb was nothing more than a Hail Mary), instead making safe short passes. But he has a coach (and offensive coordinator) that put him a position to succeed by playing everything off the run and not relying on the passing game to work miracles. George ran the ball 33 times for 98 yards, which is not many yards/carry at all, except it allowed the Titans to successfully work play action fakes in the second half with McNair rolling out to pass because the Steelers were so geared up for the run. Truth be told, the Steelers ran the ball better than the Titans did all day when they chose to run. They simply did not run enough and put Kordell in situations where he had to be better than he is in order to win. So they didn't.

I've come to believe that Kevin Gilbride is not the right offensive coordinator for this team. The personnel does not match his offensive philosophy of a pass-intensive offense, and he refuses to change his philosophy to match his talent. This team will never be the Rams, and though Gilbride may not believe it, that's OK. A strong running game shortens the game so much, the opposing offense only has so many chances to score. Did you notice how many possessions the Steelers had in the first half? Not counting the possession at the end where the clock ran out, they had four. That's it. That's because the Titans insisted on running the ball and giving the Steelers limited opportunities to score. It is what worked so well for the Steelers of the mid-90's under Ron Erehardt and it is what Gilbride seemingly cannot do. The fact is the Steelers cannot get a new QB or better receivers by the end of the season, so they have to make the best of the personnel they have. If Gilbride cannot do this, he should not be the offensive coordinator. That's my take.

P.S. Vote for Gore! We can't have a president whose entire education budget is spent on himself!




Submitted by Oz


This one hurts. But I really don't see how anyone can say it's ALL Kordell's fault. Certainly some of it is on his shoulders but this is a team loss. Yes, he threw a lot of bad balls. We could have been blown out if two of them were returned for TD's. My criticism is more with Kordell, the WR's and Gilbride's game plan, and Scott at the end of the game. First off the game plan sucked. Maybe two times during the whole game did I say to myself "finally, they called the right play!" They should have run more delay's and if we would have converted some third downs we could have actually run the ball. I definitely feel we could have run on the Titans and worn them down if we could have kept the ball!

But the game killers were the penalty on Tharpe at the end, we might have been able to get a first down if the yardage hadn't been so huge after that. The defense at the end(especially Chad Scott) not being able to stop the Titans stupid little up and out pass to Mason. That was awful. The Titans ran that play all second half and Scott still couldn't stop it. There's no excuse, we ain't talking about an all world receiver here. Some more blame also has to go on the WR's! They simply have to step up! Our million dollar men aren't worth minimum wage right now and the only way to improve is to practice. If I were Cowher I'd have Kordell, Graham and the WR's play pass and catch after practice for a couple of hours. They need it. And if Kordell can't move the offense this week we need to go back to Graham.

I don't really think we will fold after this loss like last year's team. The defense is still way too good for that. Porter, Kirk, Holmes, von Olehoffen, Flowers, they gave their all. But the TEAM still came up short. We can't say we're one of the big boys yet.




Submitted by Geoff Hager


All I have heard in the media about this heart-breaking loss is how our defense had a let down in the final drive and lost the game. That is total BS!! We had the ball with less than 4 minutes to go and a 1 point lead. 1ST down- Bettis runs for 4 yards, clock keeps running. 2nd down- PASS!?!?!? (what the hell is that all about). 3rd down- ANOTHER PASS?!?!?!?! Does Kevin Gilbride think that after 56 minutes of inaccurate, late and just plain bad passing, that Kordell is majicly going to start throwing like a real NFL Quarterback? Logic tells you that those last 4 minutes will be just as crappy as the first 56 for the Steelers passing attack (kind of like a poodle attack). NO kevin, ball controling, time consuming running plays would have won this game for us.

Of course, Kordell's luck and our AWESOME DEFENSE kept us in the game but he and the receiving corps are killing us!! When he throws well, they don't catch. They're open but Kordell throws the ball where it is almost impossible to catch. Plexico had one fairly nice catch and run on the scoring drive and could have had a few more if the ball were thrown within 5 feet of him. Troy is in need of serious work in a big way. As little as we throw to our receivers, they need to be catching everything thrown their way.

I only hope our Defense can continue to stomp our opponents. This was a game we needed to and should have won. I still have my head up high because I love my Steelers.




Submitted by Paul Schellhammer


Ok, all you pro-Kordell folks...the ones who say it's not Kordell fault, it's the different offensive coordinators, it's the receivers, Dermontti's hurt, blah blah blah. Kordell was awful. He looked like Doug Pederson out there. Samari Rolle was tied with the rest of the Steelers' receivers for most catches. When Kordell leaves, he can take Kevin Gilbride with him! Can anybody explain to me why the Bus had only 13 carries in the game? I know it's good to mix things up, especially on first down, but 13 carries is ridiculous. While we're on the subject of play calling, can someone explain why, when you get the ball with 4:30 to go and a one point lead, Gilbride calls two pass plays? I know Tharpe was called for illegal procedure to turn a 2nd and 7 into a 2nd and 12 but if you RUN the ball the clock keeps moving! At least make Tennesse use their timeouts!

Next year's draft priorities:
1. QB
2. Center
3. Guard

Maybe if we package Kordell, Edwards, and the amazing, disappearing Huntley, we might get a third round draft pick out of it. Possibly pick up a nice slow wide receiver that can catch balls thrown to him or a big guard from Nebraska or Texas.

I love the defense! They are AWESOME!

Paul Schellhammer




Submitted by Ray Burtner


Gilbride's play-calling on the Steelers' final drive of the game works IN THEORY. But which game, exactly, was HE watching? Stewart couldn't hit the ocean if he was standing on the beach all day (aside from Bruener's TD - yes, we DO have a tight end, Kevin) and Gilbride thinks Stewart is going to then? Many will say they've seen enough of Stewart and it's tough to disagree. I have seen enough of Gilbride and his pie-in-the-sky play-calling. This is the PITTSBURGH STEELERS Gilbride, not the Houston Oilers. I suggest you look at your depth chart.

Check, please...




Submitted by Tom Bragg


I can sit here and rant and rave and just bitch till I turn blue in the face , but I'm simply not going to do it . However , I do want to say this , (1) This game was a textbook example of why the Steelers are a mediocre football team . Great defense and probably the worst offensive passing attack in recent league history ! Kordell Stewert and Kent Graham are simply pathetic excuses for NFL football players . Neither deserve to be called an NFL quarterback . (2) Troy Edwards and Plaxico Burress need to set their sorry asses on the bench and stay there ! I say , Damn the saleries and screw the big ass signing bonuses ! Bottom line - Neither one produces when they're called on , so let em set ! Start Hines Ward and Bobby Shaw , they are the two best receivers on the damn team and everybody knows it ! Finally , until the QB problem on this team is rectified once and for all , these 9 to 7 defeats are what the fans have to look forward to .

Tom Bragg

P.S- Gore & Leiberman in 2000 !




Submitted by Keith "KT" Thomas


The Steelers went down to Nashville today with a chance to take a shot at putting themselves into position to contend for the division title and came up short by two points.

I don't think the game was nearly as close as the score indicated. I know some folks who are getting this are going to disagree, but as Jessy Ventura would say: "I call 'em like I see 'em."

To sum it up: Our offensive impotence finally caught up with us. I don't even want to see how many three-and-outs we posted, nor to I want to see the number of third downs we failed to convert.

I've got to give a lot of credit to our defense. They've now gone six games without giving up a TD, and seven games without giving up a meaningful TD. Eddie George did run on us, much as Jamal Lewis did, but everyone had to be proud the way our defense held up when the Titans got down into the Red Zone, and George got STUFFED. To quote a cliche, while we didn't stop Eddie George, but we did contain him. I also thought the play of the DB's dropped a notch, and we did get hit a lot underneath. But I think a lot of that simply has to do with the fact that Frank Wycheck is a damm good player. You can also say that the defense should have nabbed McNair on the several occasions where they all but had him only to seem him fly from the pocket for a long gain. That's true, they shouldn't have allowed so many big gains. But its also true that that's just what McNair does. The defense held the opposing team to nine points, and normally that's enough to win a game. But with this offense....

I thought this was by far Kordell's worst game this year. He looked every bit as bad has he did in 1998 or 1999 and by my count was luck he didn't have at least four interceptions. He didn't deliver the ball well, and didn't make good decisions and was only moderately effective running the ball. The reality is, however, that Kent Graham would have been killed under this pass rush. But the issue of who should start next week is a different question.

The receivers didn't help matters much. We've said it all before. There are simply too many drops. Troy Edwards in particular should have caught the ball that was thrown his way. Hell, in a game like this that first down could have been the difference. But it was not to be.

As bad as the execution in the passing game was, I think today provides another opportunity to criticize Gilbride. I don't know what Bettis' final numbers were, but late in the third quarter someone indicated that he only had eight carries. He got a few more, but clearly, he didn't get enough.

Now lets be clear, I've never, not this year nor any year, been a proponent of relying solely on feeding the ball to The Bus. I do believe that to win in this league, you've got to have some sort of a passing game. I'll not argue that further, because I think that lesson is quite clear.

My concern rather is that Gilbride seems to be one of those coaches that doesn't seem to understand that you can have a balanced offensive attack. It doesn't have to be all Bettis, or all passing. Yet that is the way he's called it all year. Certainly we weren't going to be able to run all over the Titans the way we've run over some teams, but there was also NO need to call pass plays on first and second downs when we were trying to protect a lead late in the game. (For that matter, if you want to try to "fool the defense" then call a pass formation play but plan to have Kordell do an immediate run. Even if you don't pick up a huge chunk of yardage, you at least keep the clock running.) In the final analysis, we had enough success running the ball that in a close game like this that a more concerted effort to establish the run might have made the difference.

The play of the offensive line has concerned me over the past two weeks, and that concern clearly grew when Dawson went out of the game. We lose Dirt, and we're in trouble.....

With all of that said, where does it leave us? Well, we're 5-4 now and second in the division. We've got one of the best defenses in the league, and if we can find a way to get something resembling an offensive rhythm, I think we can make a run at something, however much of a long shot that might be.

And once again, it is Bill Cowher's job to see that Kevin Gilbride's offense finds that rhythm.

Later,
KT


---
Back to McMillen & Wife's
SandyCaps
Weekly Picks by
'Da Lovely Wife
Week 10 Picks

Steelers
Titans
16
14
7
9
Ravens
Bungles
16
3
27
7
Bills
Patriots
21
14
16
13
Cryboys
Eagles
13
17
13
16
Broncos
Jets
20
23
30
23
Colts
Bears
26
13
24
27
Chiefs
Raiders
22
21
31
49
Dolphins
Lions
13
10
23
8
Giants
Browns
23
6
24
3
Chargers
Seahawks
10
14
15
17
49ers
Saints
24
27
15
31
Bucs
Falcons
17
6
27
14
Redskins
Cardinals
23
10
15
16
Panthers
Rams
27
38
27
24
Vikings
Packers
20
24
20
26
Sandy's Record
2000: 67-35
'99 total 78-59
'98 total 117-69